5 Reasons to Love Living in Mueller: Green Living and Great Amenities
Posted by Texas Real Estate Source on Monday, October 10, 2022 at 1:06 PM
By Texas Real Estate Source / October 10, 2022
Comment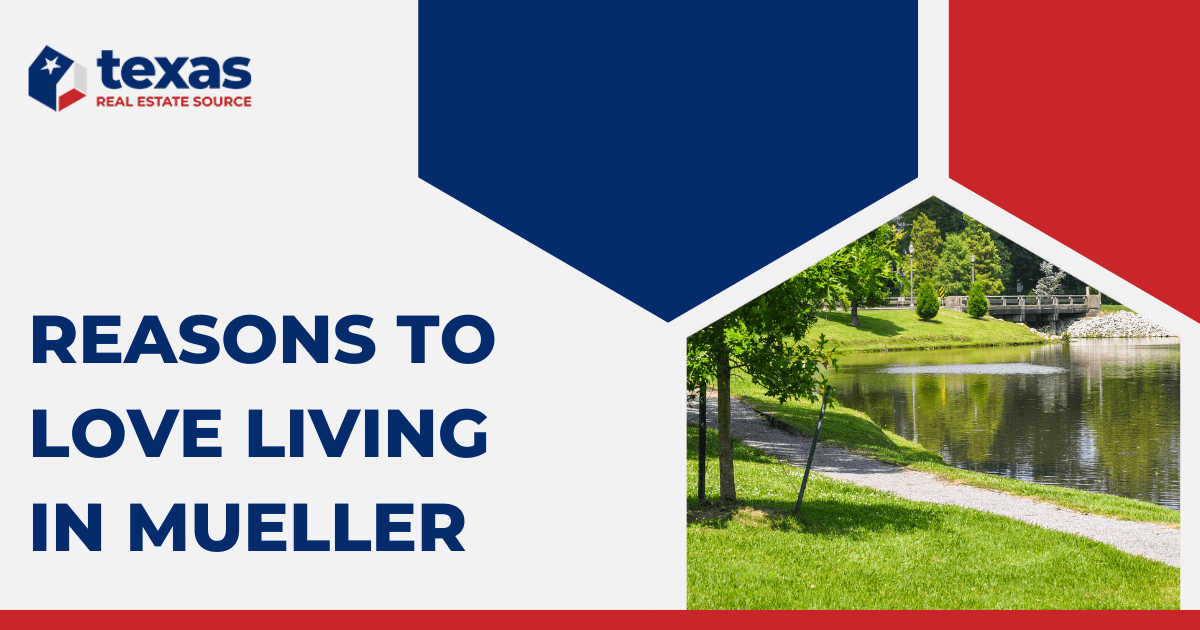 The Mueller neighborhood in the city of Austin is a model for modern master-planned communities with its combination of sustainability, liveability, and affordability. The development features eco-friendly, energy-efficient construction amid acres of dedicated green space. Activities and amenities in Mueller allow residents to find everything they need within the community. What else makes this community such a standout among Austin's neighborhoods? Here are just a few factors:
The Newest Community in Central Austin
The iconic control tower and wooden hangar are the last remaining clues to the Mueller community's first life as Austin's first municipal airport. As the city grew over the years, its air transportation needs eventually exceeded the capacity of the old Robert Mueller Municipal Airport. In 1999, the facility was shuttered in favor of the newly opened international airport. A few years later, developers broke ground on the more than 700 acres northeast of downtown where runways and terminals once sat. By 2007, the first residents had moved into the new Mueller master-planned community.
There are a few thousand homes in Mueller in various styles, floor plans, and price ranges. Builders in the community focus on sustainability, constructing houses following energy and environmental standards. The developers have also emphasized responsible urban planning, permanently dedicating a large portion of the land to parks and green space. Mueller is one of Austin's most pedestrian-friendly neighborhoods, with Mueller's amenities and necessities available just steps away from residents' front doors.
Its location in Central Austin, only about five miles from downtown, places the Mueller community conveniently near the University of Texas campus and Austin-Bergstrom International Airport. Walter E. Long Metropolitan Park offers outdoor recreation less than 10 miles east, and boating enthusiasts enjoy a short 30-minute drive to nearby Lake Travis.
A Plan For Sustainability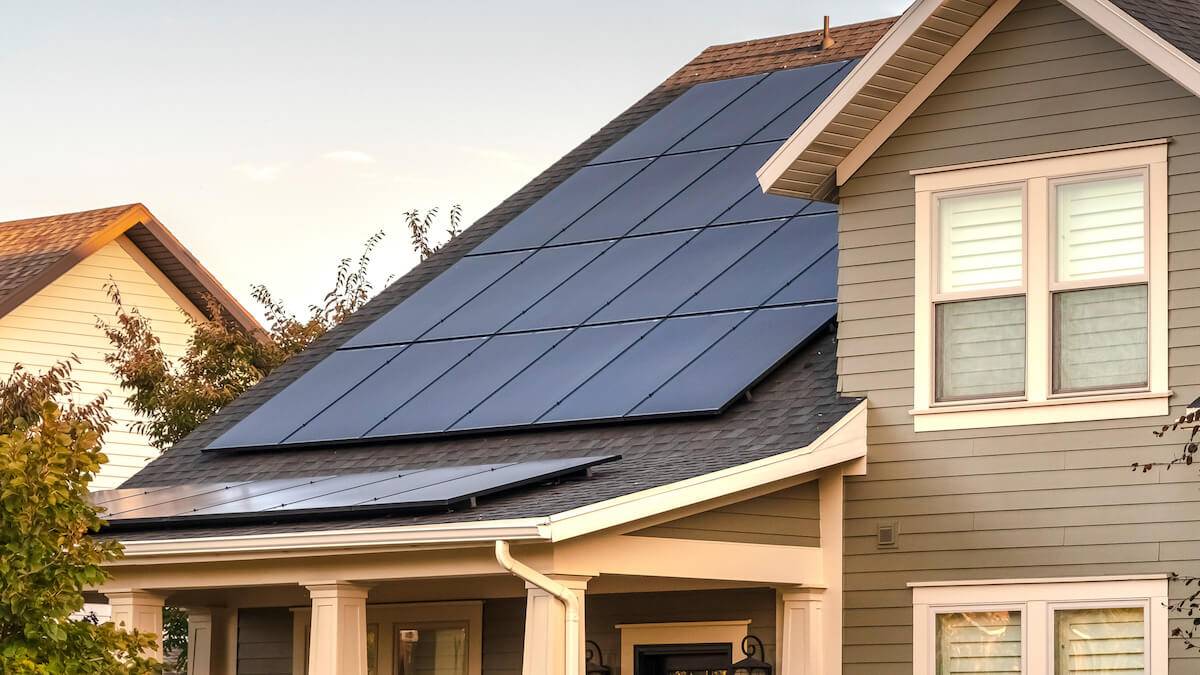 Mueller is one of Austin's most sustainably designed communities, focusing on energy efficiency, water conservation, and open space preservation. By including so many necessary services and conveniences within the neighborhood, Mueller's developers also created a setting where residents spend less time behind the wheel.
Sustainable homebuilders in Mueller adhere to the community's Green Building Program principles, following national energy efficiency and environmental stewardship standards. Homes here are built with non-toxic, recyclable materials sourced locally to limit transportation costs and impacts. Solar power is a big part of Mueller's sustainability efforts, with many homes and businesses incorporating rooftop panels to collect energy from the sun.
Among the goals of Mueller's green initiative are improved environmental health and reduced energy costs for the community and its residents. Another way the development manages this effort is through well-conceived urban planning, particularly stormwater systems and green space management designed to improve air and water quality.
Mueller Lake Park & Plenty of Green Space
More than 20% of Mueller is reserved for parkland and open space, ensuring residents remain within walking distance of the many recreational opportunities. Acres of parks and greenspace are connected by miles of hike and bike trails throughout the community, joining residents with various lifestyle amenities and outdoor activities.
One favorite spot for fun in the sun (or under the stars) is Mueller Lake Park, 30 acres of prime park space just inside the Aldrich Street entrance. The park's trail loop surrounds a 6.5-acre lake serving as the backdrop for a picnic peninsula, interactive playscape, public art installations, and open-air amphitheater. Mueller Lake Park hosts regular community events like weekly farmer's markets, live music concerts, and the first-ever Puptopia Festival.
The community's other outdoor spaces include Ella Wooten Park, featuring a Junior Olympic lap pool, adjacent kids' wading pool, multi-use sports courts, and shaded picnic areas. Mueller's newest swimming pool is in the nearby John Gaines Park, with a unique playground area and more than 100 community garden plots.
Elsewhere, folks enjoy playing sand volleyball and walking their dogs at Mary Elizabeth Branch Park, a few blocks from the Dell Children's Medical Center. The large open lawn here is perfect for a picnic or a game of bocce ball. At Jessie Andrews Park, an outdoor dining area leaves room for the occasional food truck, while nearby shaded paths and playscapes provide activities for all ages.
Surrounding Mueller are its Northwest and Southwest greenways, featuring 10-foot-wide, granite-paved hiking and biking trails. These connect to nearby outdoor destinations like Bartholomew District Park, Morris Williams Golf Course, and Patterson Neighborhood Park.
New Homes By Top Builders For Affordable Prices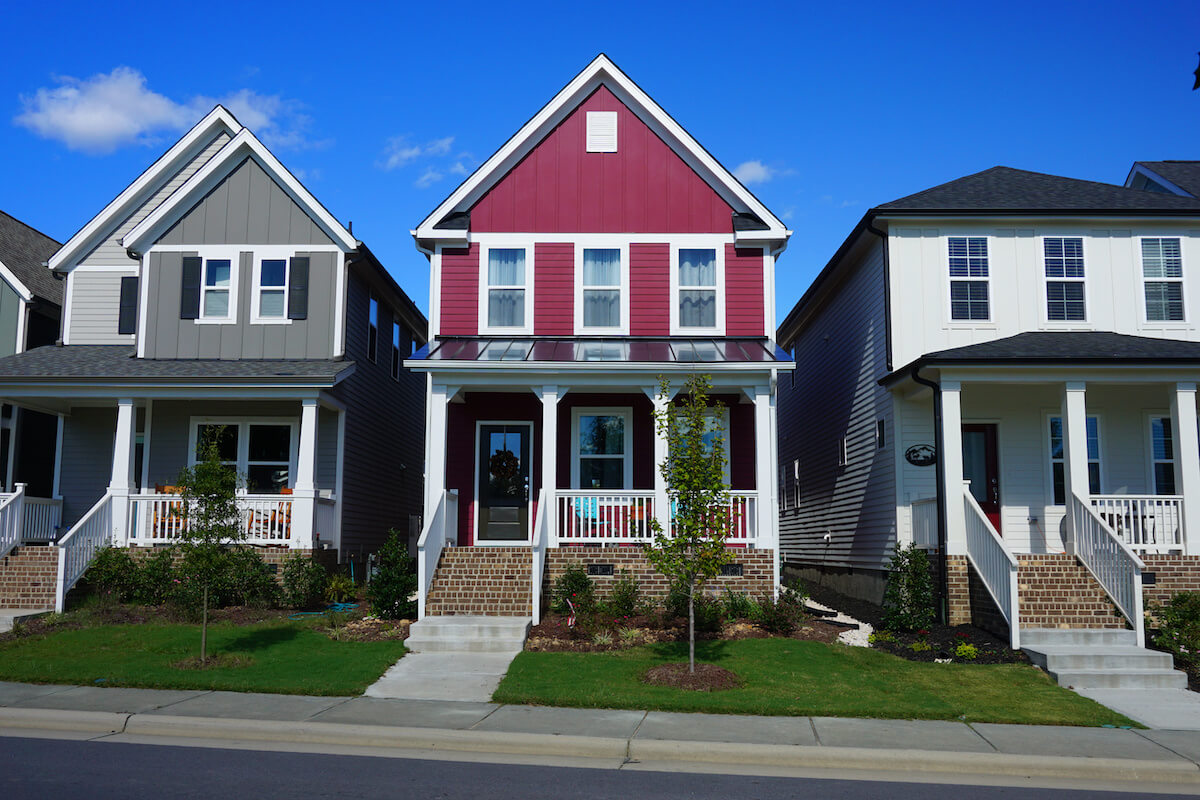 Homebuyers considering the Mueller community will find various home styles, sizes, and price ranges available. The neighborhood features a mix of townhomes, row houses, and detached garden homes from area builders like David Weekley, CalAtlantic, Wes Peoples Homes, and The Muskin Company. New construction homes range in size from 1,250 to 2,500 or more square feet, with prices from the $500s to $1 million or more. Additionally, homes in Mueller feature state-of-the-art systems and components designed to improve home energy efficiency and deliver significant cost savings to residents.
A portion of all available inventory in the community is earmarked for inclusion in the Mueller Affordable Homes Program. This initiative structures purchase and rental prices so that those earning below Austin's median income can afford a home here.
Shops, Museums, & Lots of Things to Do
No community does a better job of providing places for neighbors to meet, gather, and celebrate than Mueller. Several commercial developments inside the community provide residents with abundant shopping, dining, entertainment, health, wellness, and professional services. The Aldrich Street lifestyle district stretches from Lake Park to Branch Park, offering a unique mix of retail and residential options. Just east of Branch Park is the Mueller Market District, a pedestrian-friendly shopping area anchored by the community's H-E-B grocery.
The neighborhood's Regional Retail District is tucked into the northwest corner of Mueller, adjacent to Dell Children's Medical Center. This large shopping center features approximately 40 businesses, including anchor tenants like Home Depot and Best Buy.
Those living in Mueller have no shortage of food and beverage options either, with numerous pubs, restaurants, and cafes serving the community. Diners can sample flavors ranging from Korean-Mexican fusion, authentic Italian, and downhome cooking to Austin favorites like Tex-Mex and BBQ. Fans of the food truck scene will be happy to know the historic old hangar on Airport Boulevard hosts Mueller Trailer Eats, open daily until 8 p.m.
Residents can catch a classic movie at the nearby Alamo Drafthouse Cinema, featuring reserved seating with food and drink service. Kids will enjoy playing and learning at the Thinkery, the community's interactive children's museum and play-based education center. A favorite for all ages is the Texas Farmer's Market, every Sunday at the Branch Park Pavilion.
Ready to Live in Mueller?
It's hard to imagine a better combination of attractions, amenities, and activities than those found in the Mueller neighborhood of Austin. With its well-planned mix of modern homes, urban green space, retail centers, and social venues, Mueller delivers on the promise of creating one of the most exciting and sustainable master-planned communities in Austin.