4 Reasons to Love Living in Downtown Houston
Posted by Texas Real Estate Source on Thursday, September 1, 2022 at 8:33 AM
By Texas Real Estate Source / September 1, 2022
Comment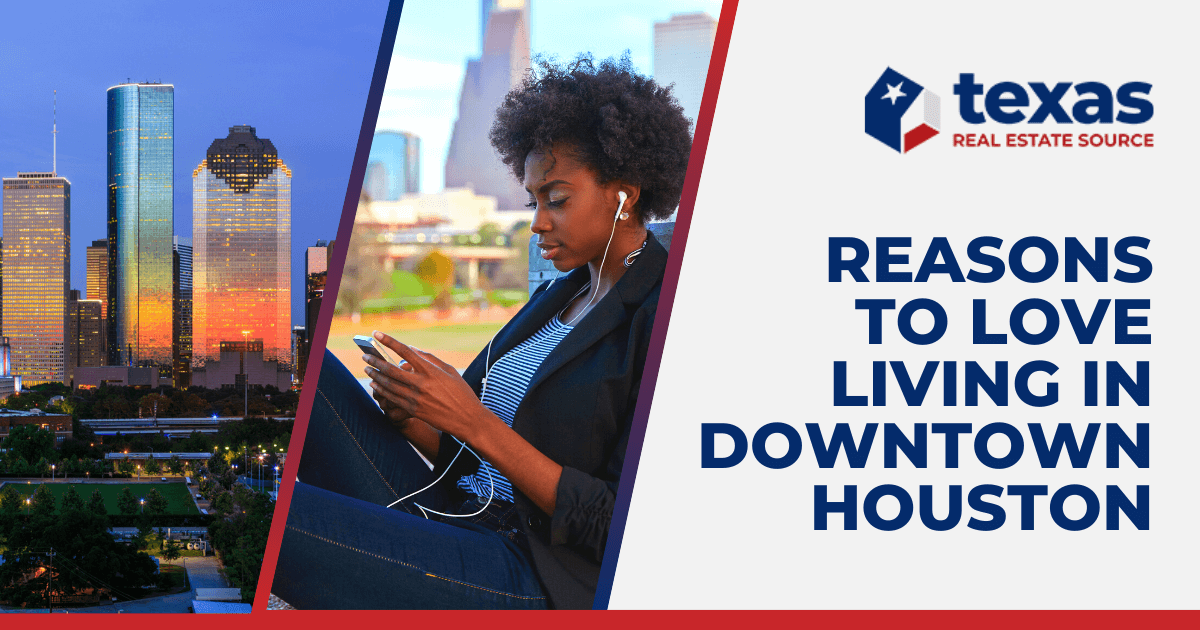 Living in Downtown Houston comes with a lot of benefits. For starters, it's conveniently located just minutes from all of the city of Houston's major attractions. In addition, residents enjoy wonderful urban amenities such as walkability and excellent public transportation. Need more convincing? These are our top four reasons to love living in the Downtown Houston neighborhood.
Downtown is One of the Coolest Neighborhoods in Houston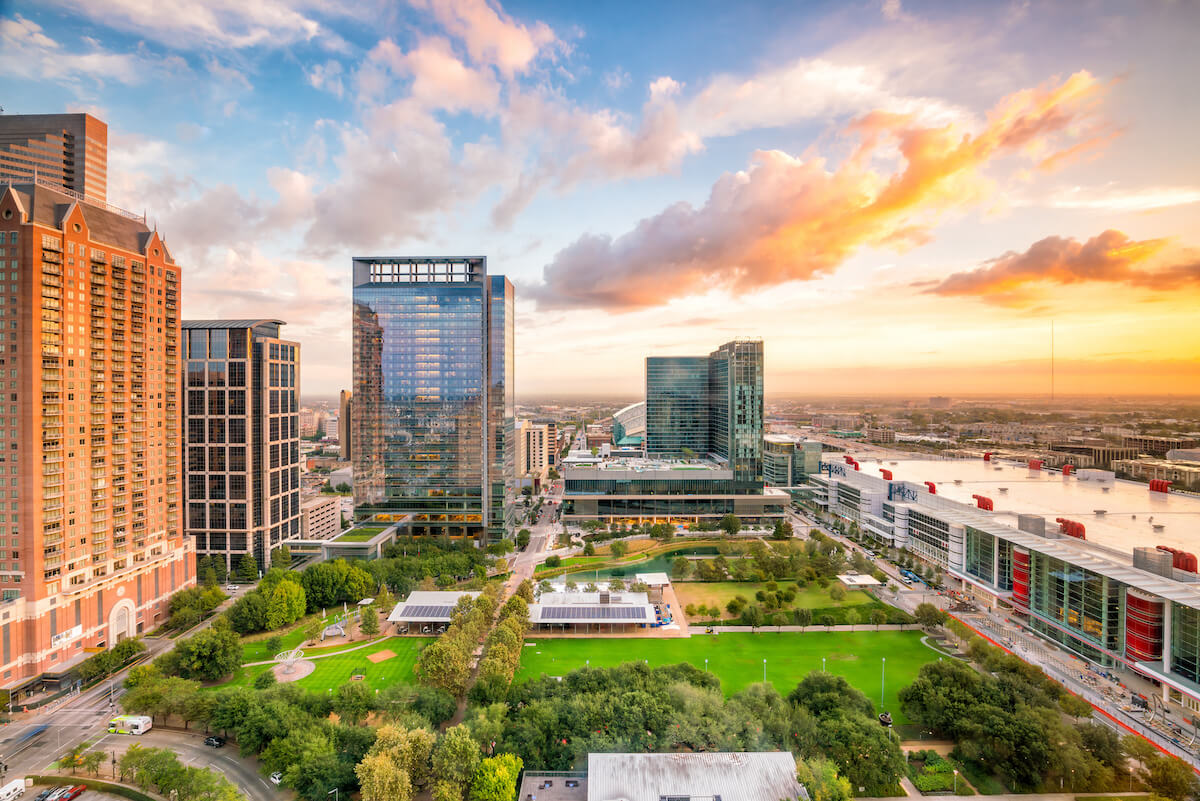 Downtown Houston's eclectic blend of arts, culture, food, and fun makes it one of the best places to live in Houston. It offers easy access to all of Houston's best things to do, including the Houston Museum District, which attracts popular exhibit tours in addition to its permanent collections.
Things to Do in Downtown Houston
From its dining scene to outdoor entertainment, there's always something to do in Downtown Houston—often within walking distance.
If you're looking for a high-end Texas steakhouse, try Vic & Anthony's Steakhouse, voted the best steakhouse by Houston Press Readers' Choice 2021. If steak isn't your thing, don't worry. Downtown Houston also has a variety of restaurants, from Indian to Tex-Mex. Barnaby's Café is a more casual local favorite, offering burgers, sandwiches, and salads.
For a night out, check out Little Dipper, a cozy little bar with low prices, good music, and pinball! Spend an evening on their patio, watching the sun set behind the skyscrapers. Want something a bit more unusual? Check out the nightly poetry readings and live music performances at notsuoH.
Outdoors lovers have plenty of options too. Get out into the fresh air at Discovery Green, which covers 12 acres of gorgeous greenspace. The park hosts festivals, pop-up flea markets, and other outdoor events. George R. Brown Convention Center, hotels, and dining are all conveniently located near Discovery Green.
Other outdoor destinations include Hermann Square and Sam Houston Park near Buffalo Bayou, as well as Avenida Houston. It's an outdoor marketplace in front of the convention center between Minute Maid Park and Hilton Americas-Houston. Stroll through and check out the restaurants with outdoor dining.
Don't forget about sports! Take in a ball game at Minute Maid Park, home of the Houston Astros, or cheer on the Houston Rockets at Toyota Center.
What to See in Downtown Houston
Downtown Houston has a vibrant arts scene with community theaters and art galleries.
The Hobby Center for Performing Arts is the place for Broadway shows in Houston. Shows like Chicago, Jesus Christ Superstar, and Moulin Rouge, among other popular shows, have performed at the Hobby Center.
For visual art, visitors can stop by Graffiti Park, an outdoor art space for street artists and a popular destination for urban photographers. Meanwhile, Bisong Art Gallery serves as a venue for artists to display and sell their work, connecting artists with buyers. This lovely contemporary space also hosts weddings and events.
Downtown is also home to the Downtown Aquarium. Visitors can learn about marine wildlife in exhibits about the Gulf of Mexico, Louisiana swamps, and rainforests. Or how about taking a journey through the Shark Voyage? Sand sharks, blacktips, whitetips, sawfish, and zebra sharks coast by as you explore the underwater tunnel by train.
If you're looking for more education, the Houston Museum District features 19 museums that include:
Asia Society Texas Center
Buffalo Soldiers National Museum
Children's Museum of Houston
Contemporary Arts Museum Houston
Czech Center Museum Houston
DiverseWorks
Holocaust Museum Houston
Houston Center for Contemporary Craft
Houston Center for Photography
Houston Museum of Natural Science
Houston Zoo, Inc.
The Health Museum
The Jung Center of Houston
Lawndale Art Center
The Menil Collection
Museum of African American Culture Center
Museum of Fine Arts, Houston
Moody Center for the Arts
Rothko Chapel
All are located within a 1.5-mile radius of Hermann Park's Mecom Fountain.
You Can Live Without a Car in Downtown Houston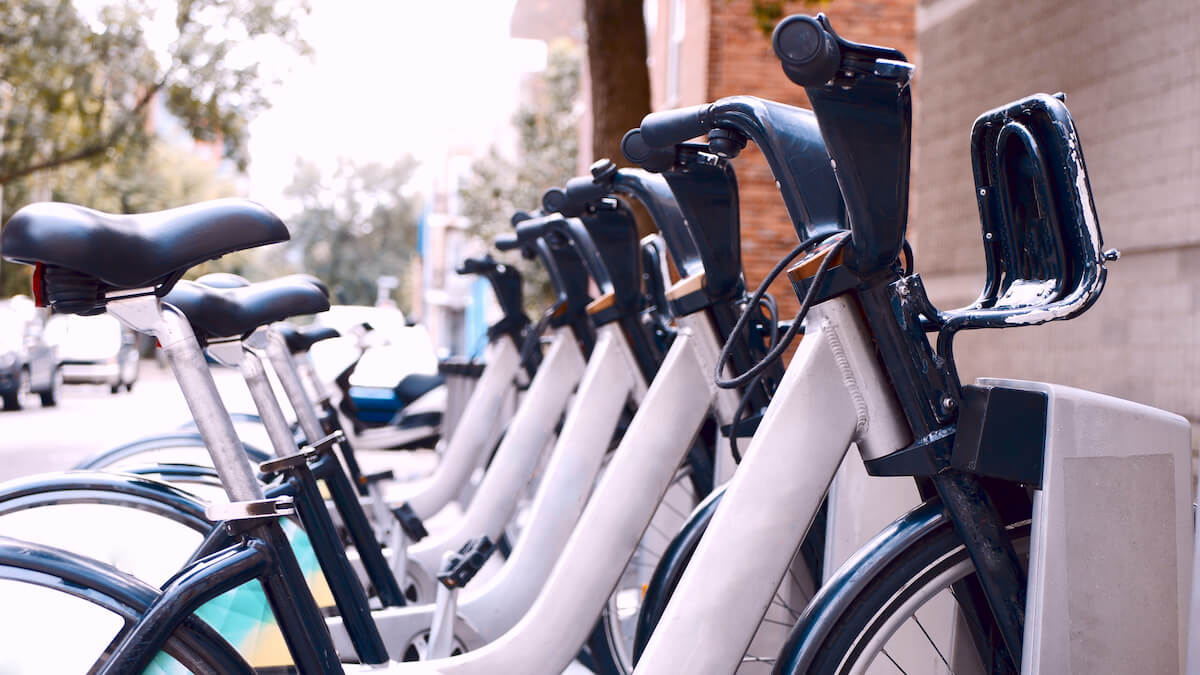 No need for a car in Downtown Houston! Options for easily navigating Downtown include the METRORail or Bus, the BCycle bike sharing program, and many ride-share app options. The Downtown area is also incredibly walkable with a complex underground tunnel and skywalk system.
Downtown Houston Public Transportation
There are several options for getting around Downtown Houston without a car, and all of them are affordable. Depending on your needs, you can choose between buses, light rail, bicycling, and ride-shares. These convenient services make it easy to get around town without worrying about parking.
Houston has Metro Bus and Rail systems, both of which provide free Wi-Fi. You can opt for the Park & Ride service in one of their 28 convenient parking lots.
Houston's bike sharing program is called BCycle, and it's an affordable option to explore all of Downtown easily. Membership options are available for those using the service frequently, or you can pay per use.
Zipcar is an on-demand car-sharing option with three convenient locations, so you can rent a car when needed. Ride-share options like Uber, Lyft, and taxi services are also available; you can hail a cab Downtown or schedule to have one pick you up.
Downtown Houston is Walkable
Downtown Houston is incredibly walkable. Tunnels, skywalks, and plenty of sidewalks make getting around on foot a breeze. Pedestrian-friendly attractions and landmarks make it easy to get around without relying on a car.
The tunnels are climate-controlled and make up about 95 city blocks under the Downtown area. If you work Downtown, you'll have access to everything you need through the tunnel system, including postal service, banking, dry cleaners, copy centers, and food courts. There are also plenty of places to stop for a coffee or a bite to eat if you need a break from exploring.
Maps of the Houston tunnels are available online for navigating the tunnel and skywalk system. If you're staying Downtown, the tunnels connect a few major hotels with office buildings and shopping, so go exploring! Meanwhile, skywalks connect businesses and office buildings.
The streets of Downtown Houston are wide and well-paved, with sidewalks on both sides. This makes it easy for pedestrians to get around, and you can also take advantage of the city's many parks and plazas. Houston is also bike-friendly, thanks to the relatively flat streets and plenty of bike lanes and off-street paths for cyclists.
Live Where You Work: Downtown Houston's Major Employers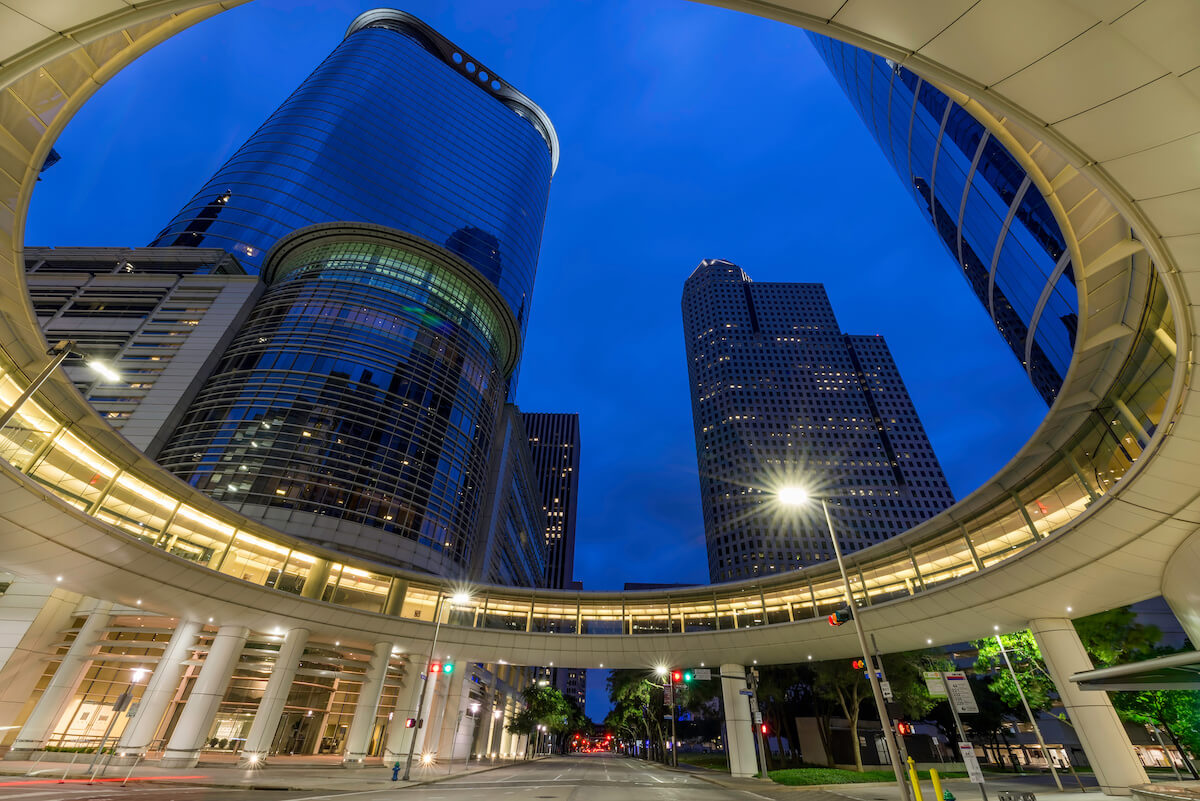 Downtown, Houston has a thriving business district and is one of the leading cities attracting major corporations. Here are just a few major employers with offices in the Downtown area:
JP Morgan Chase Tower currently holds the title of the tallest building in Texas at 75 stories. It houses several businesses and a hospitality-focused lobby area with cafes and gathering spaces. Plus, it connects to Market Square Park, the Theater District, and other Downtown attractions through the tunnel and skywalk system.
Other major corporations with downtown offices include Bank of America, Kinder Morgan, Waste Management, Inc, United Airlines, Wells Fargo, and PricewaterhouseCoopers.
Downtown Houston is also a central hub for the energy sector. Hess Corporation, Chevron, NRG Energy, Energy Transfer Partners, and others conduct business Downtown.
Live in Some of Houston's Coolest Real Estate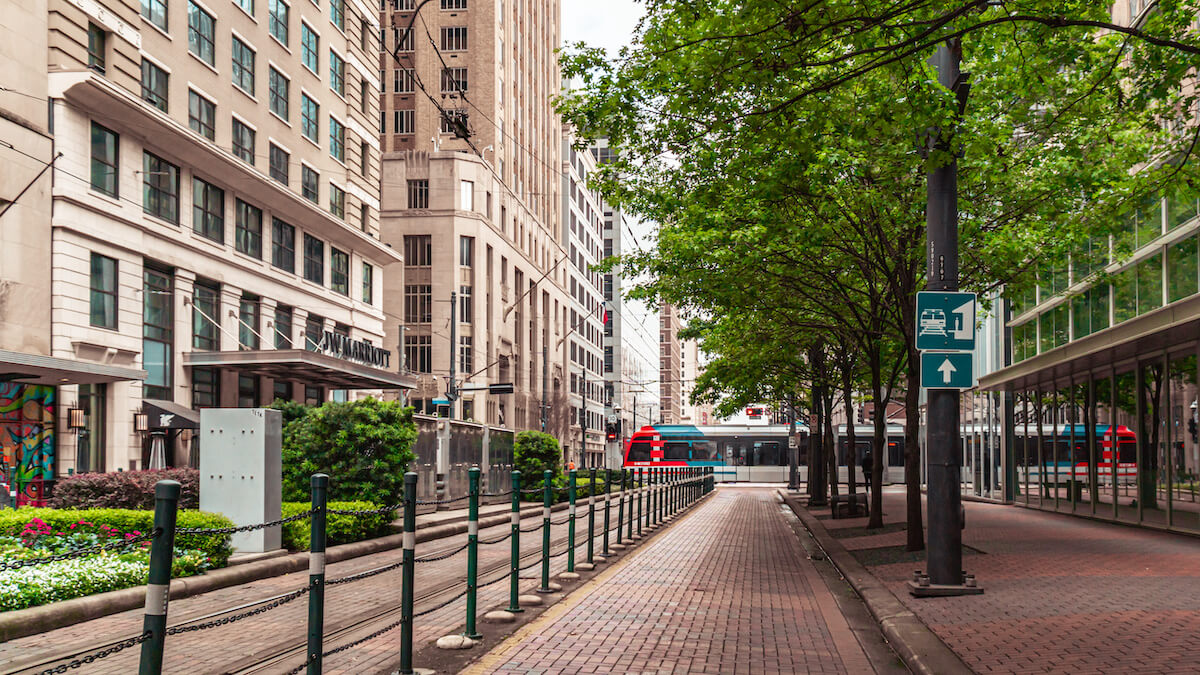 So you got a job in Downtown Houston, and now you need to find a place to live. Some of Houston's coolest real estate happens to be located downtown! There are more than 115 condo buildings in the Downtown area, and they provide easy access to amenities and local services.
Downtown real estate includes historic lofts and luxury condos. High-rise condos and lofts in Downtown Houston often feature historic architectural designs, high ceilings, and open floor plans with views of the city like no other place in Houston.
The Star is a historic landmark building built in 1915 and represents just one example of the iconic Renaissance Revival architecture woven into the downtown skyline. Bayou Lofts is a standout in the historic district, a former railroad headquarters repurposed into elegant mid-rise lofts.
Houston's Skyline District gives urban living a new feel. Its boutique buildings have units with exposed concrete columns, crown molding, painted exposed ceilings, and many more unique architectural elements.
Living and working in Downtown Houston is easier than ever, with historic architectural designs in lofts conveniently located near everything you need.
Make Your Home in Downtown Houston
For those who move to Houston, Downtown Houston is quickly becoming one of the most popular neighborhoods to live in, thanks partly to its outdoor spaces, restaurants, and ease of getting around. The central location and access to public transportation make Downtown one of the most convenient places to live in Houston. With such convenience and urban amenities, what are you waiting for? Move to Downtown Houston today!