Riverstone Schools: Fort Bend ISD and Sugar Land TX Schools Near Riverstone
Posted by Texas Real Estate Source on Tuesday, September 20, 2022 at 8:59 AM
By Texas Real Estate Source / September 20, 2022
Comment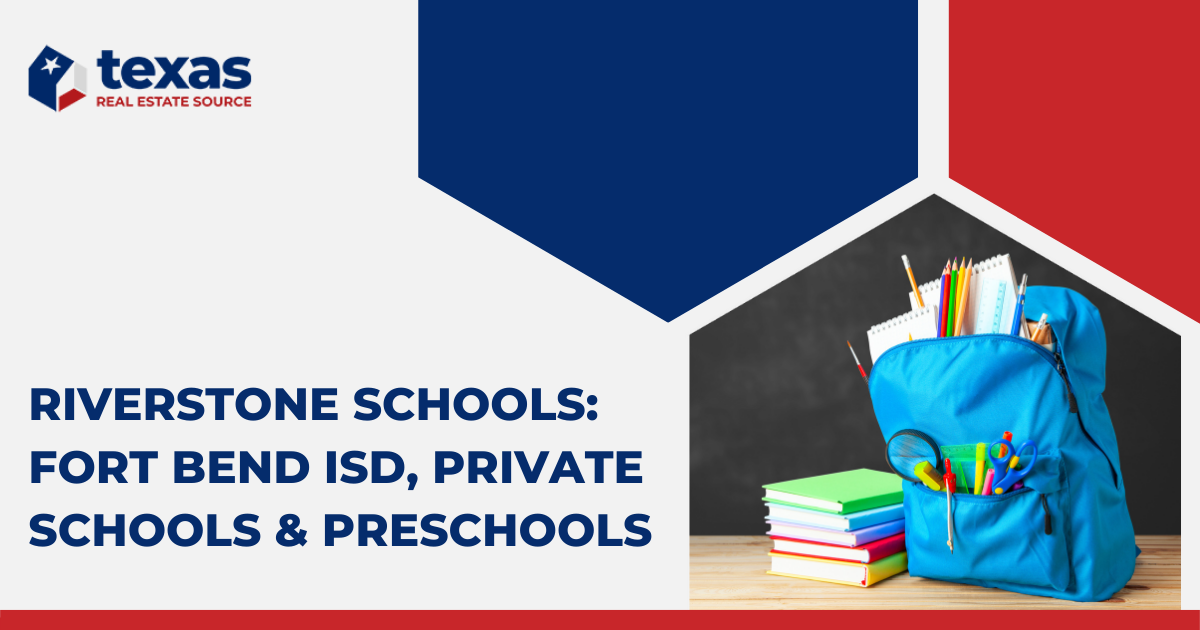 Living in the Riverstone community gives residents a wide range of options when choosing the right school. Fort Bend ISD is home to many schools, offering something unique to its students. On average, Fort Bend schools have a ratio of 15 students to every teacher. Riverstone's proximity to a broad range of schools in Sugar Land, private schools, and colleges solidifies its place as one of the best master-planned communities near Houston.
Fort Bend Elementary Schools Near Riverstone
Anne Sullivan Elementary
Anne Sullivan Elementary (ASE) is located at 17828 Winding Waters Lane within the Riverstone community and offers students in Fort Bend County a variety of programs to express their creativity while developing valuable skills.
Sullivan Elementary has a Destination Imagination team and a Coding and Robotics Club. Students can also participate in positions on the KASE Broadcast Crew to develop public speaking skills helping with broadcasting school announcements.
The STEM program introduces students to engineering and physics concepts outside the classroom. Students can choose to join if they're interested in the sciences.
In addition to the extracurricular activities, Sullivan Elementary has academic support like a math specialist, an academic interventionist, and a specialized dyslexia teacher.
Austin Parkway Elementary
Austin Parkway Elementary (APE) is at 4400 Austin Parkway in the Lakeway neighborhood. The school has a choir and offers fine arts in the curriculum. Students can also participate in the student council and the National Elementary Honor Society.
The APE has a unique activity called the Sailors' Fitness Challenge for students in grades 3 to 5. Participants meet weekly and work on physical fitness challenges through games and exercise.
Austin Parkway also has a reading specialist and literacy coach on campus and a math specialist who offers virtual instruction options.
Commonwealth Elementary
Commonwealth Elementary (CWE) is in the Sutton Forest neighborhood at 4909 Commonwealth Boulevard. CWE has a clear mission statement and vision to inspire learning and growth in students, and the school clubs demonstrate their commitment.
Commonwealth Elementary school has several clubs for students to join. They include:
Garden Club
Kindness Club
Cougar Running Club
Girls on the Run
PAWS Club for Animal Awareness
In addition, the school has a literacy intervention teacher and reading specialists on campus to support students with reading comprehension. They also have a math specialist.
CWE students can join the National Elementary Honor Society. They also have the option to learn valuable leadership skills by running for the student council.
Settlers Way Elementary School
Settlers Way Elementary School (SWE) at Settlers Way Park at 3015 Settlers Way Boulevard. The elementary school offers in-depth art and music classes to develop creativity and imagination.
Using evidence-based teaching techniques, the art and music teachers at SWE help students discover hidden talents and lay a foundation for kids to pursue those interests beyond elementary school.
The school has boys' and girls' clubs for additional extracurricular options. Additionally, kids interested in computers and robotics can get a hands-on learning experience in Coding Club.
Fort Bend Middle Schools Near Riverstone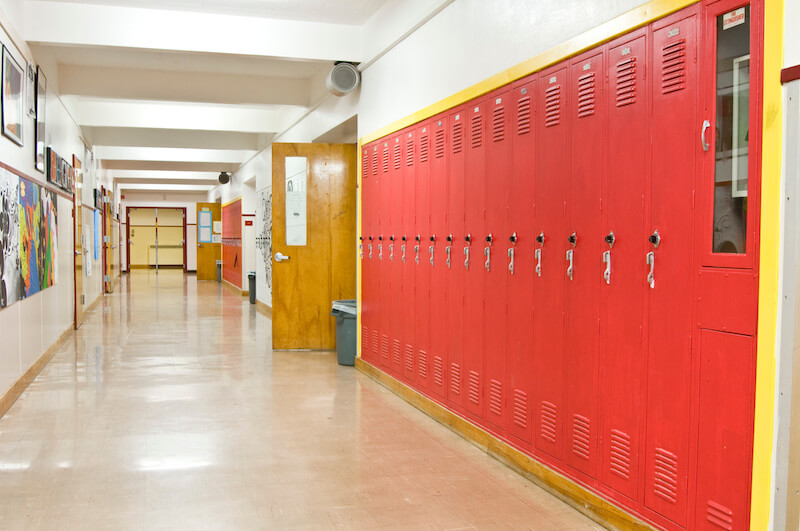 First Colony Middle School
First Colony Middle School is at 3225 Austin Parkway and conveniently near Colony Park, Colony Bend, Austin Park, Settlers Grove, and Settlers Park neighborhoods.
The middle school offers a long list of clubs and extracurricular activities to cover all interests and talents. They also provide a wide range of electives in the curriculum to give students choices in classes based on interests.
First Colony Middle School also has at least 15 clubs for students to join, including Chess Club, Coding Club, Robotics, and Spirit Squad, to name a few. Students in broadcast journalism get the opportunity to write, direct, and produce the live recorded FCTV News broadcast.
Fort Settlement Middle School
Brazos Landing and Avalon neighborhoods offer convenient access to First Settlement Middle School at 5440 Elkins Road, on the west side of Riverstone.
Fort Settlement provides students with various clubs and organizations, including Robotics, Harry Potter Club, Rubik's Cube Club, and many others. They also have an extensive athletic program with plenty of sports to choose from for boys and girls, including soccer and tennis.
The active curriculum allows students to take electives that prepare them for future careers. The middle school offers Teen Leadership and Investigating Careers as elective options and a few other electives to prepare students for high school and beyond.
Fort Bend High Schools Near Riverstone: Lawrence E. Elkins High School
Over 2,400 students from the Quail Valley, Lake Olympia, and Riverstone Communities are served by Lawrence E. Elkins High School at 7007 Knights Court.
Elkins High School's curriculum includes advanced options for math and engineering. Along with a wide range of STEM-focused clubs, the high school offers classes through the Engineering Academy in aerospace engineering, civil engineering and architecture, and other foundational courses.
The Engineering Academy has partnered with NASA, which is only 35 miles away, to open internships for interested students. Elkins High School gives young people a jumpstart into an engineering career.
The high school also boasts an extensive athletic program. They offer numerous common high school sports like football, basketball, and volleyball, and Elkins also has a swim team and diving for students who enjoy water sports.
Private Schools Near Riverstone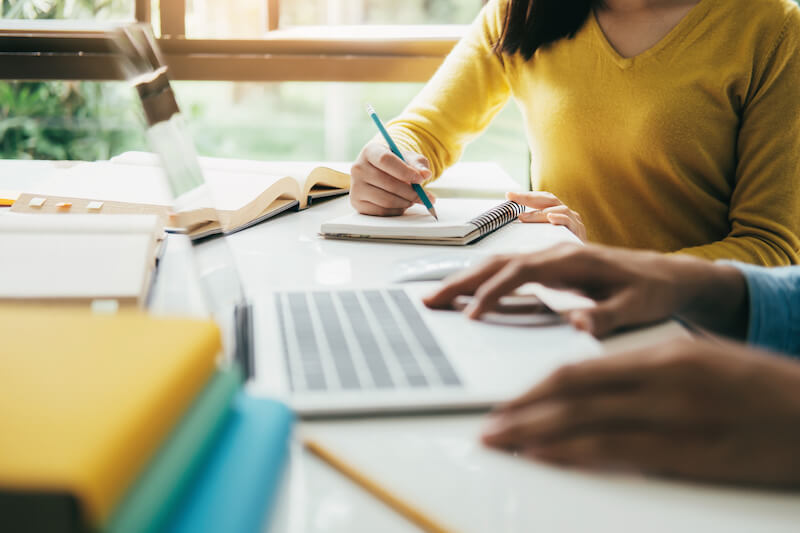 Conveniently located in Riverstone, the two private schools in the community provide students with a foundation for learning different from the local public schools.
Casa Dei Bambini Montessori at 20211 South University Boulevard in Missouri City utilizes the Montessori method to provide science-based education. Parents can enroll toddlers through 5th grade when spaces are available.
Kids R Kids Learning Academy of Riverstone at 18408 Winding Waters Lane focuses on their "Hug First, then Teach" principle that promotes a compassionate approach to learning. Teachers at Kids R Kids implement different learning theories than Montessori, giving parents a choice in their child's learning methods.
Parents can also opt for one of the many private schools in the area. Over 20 Christian academies and secular private schools are located close to the Riverstone community.
Daycares and Learning Centers Near Riverstone
With 24 daycare and learning centers in surrounding Sugarland and Missouri City, Riverstone has plenty of childcare options to get children involved in learning early. Parents can choose the method of teaching and learning environment without having to travel far.
At least three Primrose and Montessori schools are near Riverstone, with programs designed for infants through elementary-aged children. Additionally, the Walden School is well-established and cares for infants through Pre-K.
Other Pre-K options in Missouri City and Sugarland include Christian-based daycares like Little Fishers Preschool on Austin Parkway, a Lutheran facility, and Sugarland Baptist Church's Children's Day Out.
Explore the Schools Near Riverstone
Whether your child is interested in the sciences or the arts, Fort Bend ISD has a school near Riverstone that can support their interests and get them started on a path of lifelong learning.
With convenient daycares, Montessori schools, and private school options, in addition to public schools, living in Riverstone allows parents to choose how they want to start their child's academic journey. Located on-site, Sullivan Elementary serves the Riverstone community and offers students a high-tech learning environment and a place to grow. Living close to your preferred Fort Bend County schools is just one of many reasons to love living in a master-planned community.
Thinking about buying a home in Riverstone? Call The RealFX Group at (512) 956-7390 to contact an experienced local real estate agent who can help you find your dream Riverstone home.