Things to Do in Round Rock: Fun Activities For This Weekend
Posted by Texas Real Estate Source on Thursday, April 14, 2022 at 2:44 PM
By Texas Real Estate Source / April 14, 2022
Comment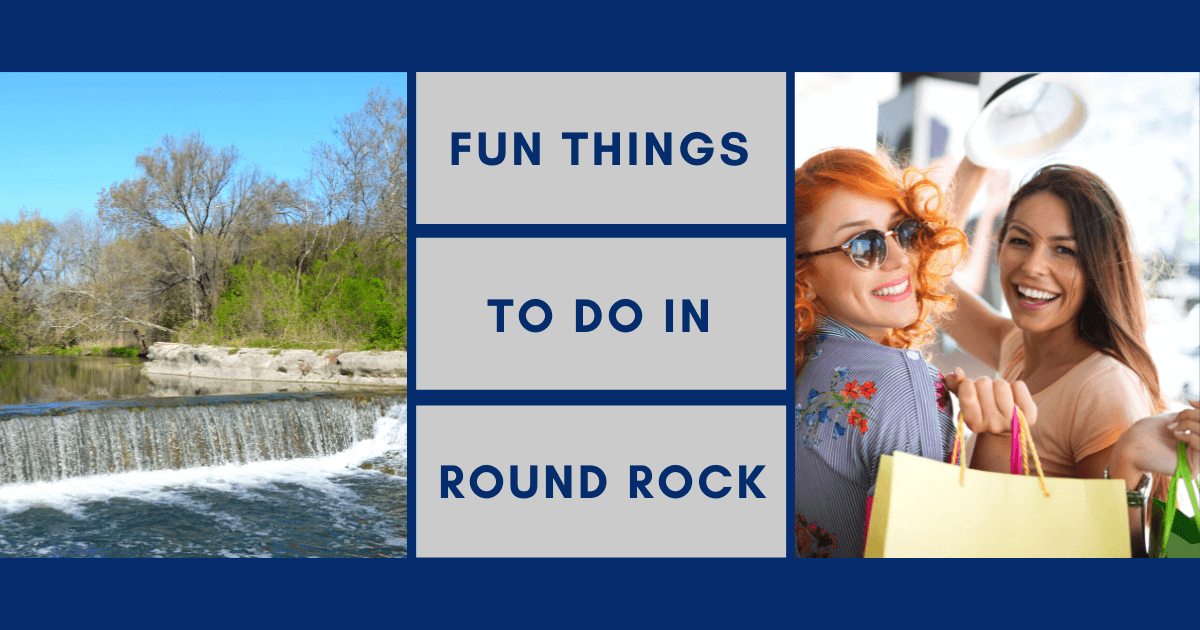 The city of Round Rock, Texas, is a great place to live, work, and play. People can explore the city's parks and trails, visit its attractions and museums, or enjoy restaurants and shopping. No matter what they're looking for, there's something for everyone to discover in this vibrant city near the Austin community. Whether a longtime resident or just visiting the area, be sure to read on to learn about these fun and exciting things to do in Round Rock.
Round Rock Outdoor Adventures
Looking for a way to get outdoors and enjoy nature? Round Rock is a great choice! There are plenty of parks, trails, and opportunities to get wet and have fun. Drive about ten minutes north to enjoy Inner Space Cavern in the city of Georgetown, or stay in Round Rock and catch an Express baseball game at the Dell Diamond.
Parks
Popular Round Rock Parks
Old Settlers Park
Chisholm Trail Crossing Park
Memorial Park
There are more than 30 developed parks on approximately 2,270 acres in Round Rock, which include beautiful scenery. The largest park is the 645-acre Old Settlers Park, including numerous playgrounds, sports fields and courts, a large open field, and pavilions. Old Settlers is also home to the Dell Diamond and the Rock'N River Water Park.
For some Round Rock history, there are the Chisholm Trail Crossing and Memorial parks. Both are by the city's namesake rock. Chisholm Trail Crossing Park has picnic tables and a sculpture exhibit, while Memorial Park has a softball field, picnic tables, and playground. Other parks lay within neighborhoods, and there are more just outside Round Rock city limits in the Brushy Creek area.
Water Recreation
Round Rock Water Recreation Destinations
Downtown Round Rock splash pad
Kalahari Resort
Rock'N River Water Park
Brushy Creek
Round Rock residents have plenty of options for water recreation. It all starts in the city's heart; downtown Round Rock features a splash pad perfect for cooling off in the summer.
The Kalahari Resort is also a popular destination for water recreation with its outdoor and indoor water parks. The indoor waterpark is the largest in America and features 223,000 square feet of slides, a lazy river, a wave pool, and more.
Another waterpark option is the Rock'N River Water Park, boasting slides, a lazy river, and a water playground. Its sprayground includes 51 features, and there are other activities like water volleyball and a rock-climbing wall.
Nearby Brushy Creek is an excellent option for those who prefer fishing or kayaking/canoeing. The creek offers a beautiful natural setting and a variety of fish (rainbow trout and sunfish, to name two) to catch. There are also several places to launch kayaks and canoes.
Hiking & Biking Trails
Popular Round Rock Trails
Old Settlers Park Trail
Brushy Creek Trail
There are over 20 miles of developed park and nature trails in Round Rock. The two main trails are Old Settlers Park Trail and Brushy Creek Trail. Both are rated "easy" difficulty, cover just over three miles, and have paved sections. Brushy Creek Trail also has gravel areas.
The Old Settlers Park Trail goes around the park by the same name and passes behind the Dell Diamond outfield, so one may catch a home run ball while on it. The trail is paved, making it an easy hike or bike ride. There's also a field to watch model aircraft club Lone Star Aeronuts fly remote-control aircraft.
Brushy Creek Trail will eventually connect the Leander community to the city of Hutto but already serves as a popular destination for residents. Because of the path's pavement and continuity, cyclists frequently utilize the section of trail that begins at A.W. Grimes Boulevard and continues to Red Bud Lane.
Between the trails, water activities, and parks, Round Rock has no shortage of outdoor activities to enjoy. Its proximity to Brushy Creek and nearby cities offers residents even more options.
Shopping in Round Rock
Round Rock Shopping Destinations
La Frontera
University Oaks
Round Rock Premium Outlets
Round Rock offers a unique mix of shopping experiences, from La Frontera and University Oaks shops to the outlet stores at the Round Rock Premium Outlets. For a boutique-focused experience, downtown Round Rock is the place to be.
The Round Rock Premium Outlets features over 100 outlet stores across 200 acres, including Chico's Outlet and the GAP Factory Store. In addition to these popular chains, visitors can find several small local boutiques at this shopping center. It also has a food court along with snack stores.
Two other shopping centers in Round Rock are La Frontera and University Oaks. La Frontera is a mixed-use development, so in addition to its stores like Barnes & Noble and Bed Bath & Beyond, it also has restaurants and lodging. University Oaks also has restaurants and offers stores like IKEA and JOANN.
Round Rock Restaurants
Popular Round Rock Restaurants
Round Rock Donuts
Hoody's Subs
Louisiana Longhorn Cafe
Salt Lick BBQ
There are many popular restaurants in Round Rock. With all the options from barbecue and TexMex to everything in between, deciding where to eat might take a while. Here are a few of the top choices for dining in the city.
Round Rock Donuts has been one of the best donut shops in Texas since its opening — its recipe started back in the 1930s–40s. Many guests line up daily and order from their large variety of doughnuts, ranging from the classic glazed to options with filling. Don't forget the Texas-sized one!
Hoody's Subs is a great choice for those seeking hot and cold subs. Sandwich options include Italian, Philly cheesesteak, and Veggie Grill. The restaurant, located across the street from Round Rock High School, prides itself on a friendly atmosphere.
The Louisiana Longhorn Cafe is a popular Cajun-style restaurant. It uses recipes from the owner's family members and friends, ranging from appetizers like N'awlins fried pickles to entrees like gumbo, seafood, and sandwiches.
Located next to the Dell Diamond, The Salt Lick BBQ is a popular spot for barbecue food. Customers can enjoy everything from brisket and ribs to sandwiches, and sides like beans, potato salad, and coleslaw accompany most plates.
Arts & Culture in Round Rock
Round Rock is a city rich in arts and culture. There are numerous art galleries and local performing arts organizations that put on great shows for those in the city to experience.
Art Galleries
Popular Round Rock Art Galleries
Chalk Walk Festival
Downtowner Gallery
Chisholm Trail Crossing sculptures
Downtown murals
Tiemann Art Gallery
While not exactly a gallery, one of the most popular events is the Chalk Walk Festival. This two-day event takes place every year and features artists from all over the country who come to create beautiful works of art using chalk. While the artists do their job, there's live music, vendors, and other activities.
The Downtowner Gallery is an art gallery and public venue that promotes and supports artistic expression. With rotating exhibits from hundreds of artists from all backgrounds, the artwork is displayed in other buildings across the city, like the library and city hall.
Residents can also take in sculptures and murals around the city. At the Chisholm Trail Crossing, some statues honor the animals and people that crossed the trail during frontier times. Murals are primarily in downtown Round Rock.
Dance & Theatre
Round Rock Dance & Theatre Opportunities
Round Rock Ballet Folklórico
Round Rock Community Choir
Sam Bass Theatre
Blue Starlite Drive-In Theatre
Round Rock Ballet Folklórico gives people the chance to learn about the dance and culture of Mexico. The group performs at community events but can host private performances and perform at birthday parties.
Those who want to listen to some singing can turn to the Round Rock Community Choir. The all-volunteer group performs throughout the year in various genres, from classical to Broadway to holiday.
Sam Bass Theatre puts on numerous performances during the year, including a Youth Guild Show, and offers classes. Its theatre is tucked inside Memorial Park and has been around for more than 30 years.
For an intimate movie experience, the Blue Starlite Drive-In Theatre shows movies on its 32-foot screen to people parked in their cars. Films span genres and decades, so the odds are good it'll show something that people want to see.
Round Rock offers numerous opportunities to appreciate the arts. From fine to performing arts, there's always a piece of culture to enjoy.
Round Rock Nightlife
Round Rock Nightlife Destinations
Round Rock Tavern
Cactus Nights Sports Bar
Long Branch Saloon
URBAN
Rockey's Piano Bar
Round Rock has a thriving nightlife scene, with numerous bars and restaurants located in the downtown area. Some options include Round Rock Tavern, Cactus Nights Sports Bar, and The Long Branch Saloon.
The Brass Tap has numerous locations, and the Round Rock one is right in the heart of downtown. In addition to its more than 150 worldwide craft beers, visitors can also enjoy live music and food.
Guests can experience live music and food on the patio of URBAN Eat.Drink. The restaurant also has a separate bar and music space called Urban Rooftop on the fourth floor of the building just behind the restaurant.
Thursday through Sunday evenings, Rockey's Piano Bar creates an interactive experience for its guests, even allowing them to make the music requests. Apart from the music, there are also beer and cocktails.
Whether looking for a relaxed or party atmosphere, people will find it in Round Rock — often with a touch of the frontier, as many of the buildings downtown are historic.
Enjoy Your Time in Round Rock, TX
Those thinking about moving to Round Rock can be confident there's always something to do. The city has the perfect balance of outdoor activities, shopping, culture, and more, and its proximity to Austin and other Austin suburbs means residents are never far from additional options. With so much to do in the city, it's easy to see why more people are deciding to call Round Rock home.