Your Guide to Schools in the Sienna Master-Planned Community
Posted by Texas Real Estate Source on Wednesday, September 7, 2022 at 2:00 PM
By Texas Real Estate Source / September 7, 2022
Comment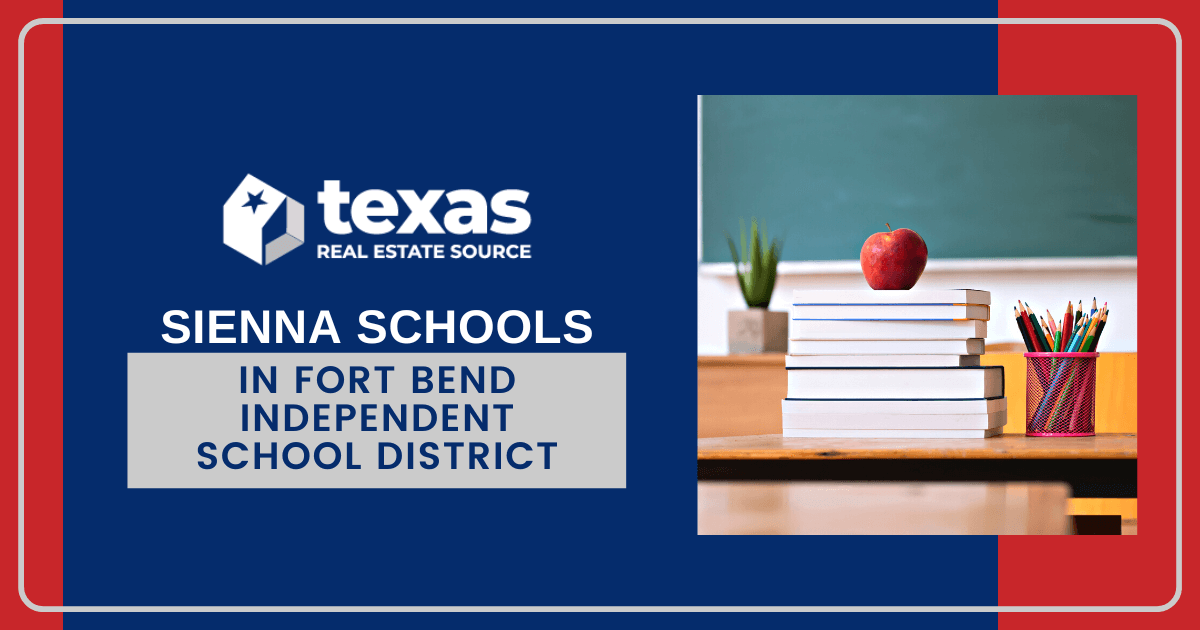 Sienna is a sought-after master-planned community located in Missouri City, roughly 18 miles southwest of the city of Houston. When considering the lush green space and resort-like lifestyle offered in Sienna, it's no surprise that this is one of the best-selling master-planned communities in Texas. However, amenities aren't the only item on parents' wishlists—one of the most frequent questions asked regarding a new home is which school district it's located in.
The Sienna community boasts more than 20,000 residents, and the area's significant population is served by the Fort Bend Independent School District. The following are just a few of the many Fort Bend ISD schools near the Sienna master-planned community.
Fort Bend Elementary Schools Near Sienna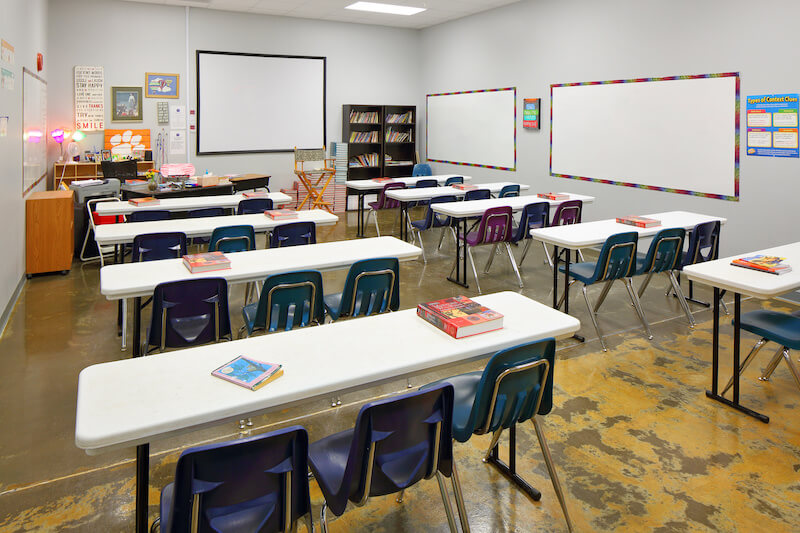 Sienna Crossing Elementary
Sienna Crossing Elementary, home of the Gators, serves grades kindergarten through fifth. It's the first school built on-site in Sienna and boasts a student-to-teacher ratio of 18:1. More than a third of its teaching staff has been teaching for a decade or more. In addition to standard curriculum classes like language arts, social studies, science, and mathematics, Sienna Crossing Elementary has extracurriculars like art and music.
Sienna Crossing is located at 10011 Steep Bank Trace in Missouri City, Texas. Subdivisions within Sienna Crossing's attendance zone include Sienna Steep Bank Village and Sienna Acreage Estates. Sienna Crossing students are zoned to attend Baines Middle School and Ridge Point High School.
Scanlan Oaks Elementary
Scanlan Oaks Elementary is comprised of nearly 800 students, from kindergarten through fifth graders. Located on Camp Sienna Trail, the school is zoned for several Sienna neighborhoods, including Sienna Village of Waters Lake and part of Sienna Village Of Shipman's Landing. Scanlan Oaks students graduate to Thornton Middle School and Ridge Point High School.
The Scanlan Oaks Elementary Library provides students with a bounty of books, audiotapes, and activities for both learning and play. The library's database is easily searchable and kept up-to-date with which books are currently checked out.
The school also offers several extra-curricular opportunities outside of the regular school day. The Success Zone is one such program, a collaboration between the school and local professionals that assists students in gaining real-world knowledge through fun games and activities.
Donald Leonetti Elementary
Donald Leonetti Elementary is a grade school serving students from kindergarten through fifth grade. The school is zoned for several local neighborhoods, including much of Sienna Village Of Shipman's Landing and the area near Sawmill Lake Club. With a smaller-than-average student-to-teacher ratio of 13:1, the less than 1,000 students at this Donald Leonetti Elementary get plenty of one-on-one time with educators.
Leonetti students are zoned for Thornton Middle School and Ridge Point High School.
Jan Schiff Elementary School
Jan Schiff Elementary School, home of the Sharks, is committed to creating an environment for its students to explore their individual interests. Outside of core classes, Jan Schiff offers Art, Music, and Physical Education classes. There is also a Lego and Robotics Club that meets after school twice a month for computer learning and friendly competition.
Students living in Sienna Village of Anderson Springs, Waterbrook, Silver Ridge, and other nearby neighborhoods attend Jan Schiff Elementary School. Jan Schiff students are also zoned for Baines Middle School and Ridge Point High School. The school is located on Discovery Lane and serves close to 900 students.
Heritage Rose Elementary
Heritage Rose Elementary serves a large portion of Missouri City, with neighborhoods from Fenns to Sienna Point being served by the large school. Close to 100 teachers educate upwards of 1,200 students in grades kindergarten through fifth. Heritage Rose feeds into Thornton Middle School and Ridge Point High School.
The school focuses on keeping students motivated and inspired through engaging games, activities, and programs. There is a huge selection of clubs at Heritage Rose, from art to dance to HYPE (Healthy Youth Pursuing Excellency), a club dedicated to students spreading awareness of the importance of making healthy decisions.
Ferguson Elementary
Ferguson Elementary is a brand new addition to Sienna, a two-story elementary school that will serve grades kindergarten through fifth. The building spans more than 127,000 square feet and is located in the Heritage Park neighborhood of Sienna. This is within the attendance zone of Thornton Middle School and Ridge Point High School.
Inside, classrooms are organized in clusters to best utilize the space. The campus' outdoor space consists of two courtyards, one meant for core curriculum learning, and the other concentrated on the arts.
Fort Bend Middle Schools Near Sienna
Billy Baines Middle School
Proud home of the Longhorns and catering to students living in the Estates of Silver Ridge, Teal Run, and Oyster Creek Country, Billy Baines Middle School has more than 1,200 students across grades sixth through eighth. Teachers here are well-equipped to handle the large student population, with the average teacher tenure averaging more than a decade.
Core classes here include language arts, science, math, and social studies, but there are plenty of ways for students to get involved in their school community. Clubs here include:
Pep Squad
Spanish Club
Student Council
Book Club
Cheerleading Club
Students can stay active by participating in basketball, tennis, football, volleyball, or any of the many other athletics offered by the school. Baines students graduate to Ridge Point High School.
First Colony Middle School
First Colony Middle School opened in 1985 and has been named the National Blue Ribbon School, an award that recognizes the facility and its administrators for their commitment to maintaining high expectations for both their students and themselves.
Seventy teachers strive to achieve academic excellence alongside their more than 1,200 students. Grades sixth through eighth attend First Colony, located on Austin Parkway in Sugar Land and serving neighborhoods that include Heritage Colony, The Terrace at Riverstone, and Creekstone Village at Riverstone, among many others. First Colony students are zoned to attend either Elkins High School or Clements High School.
Ronald Thornton Middle School
Located on Waters Lake Boulevard, several neighborhoods are zoned for the Ronald Thornton Middle School, primarily in the more southern part of the community. Thornton Middle School has a student population of nearly 1,500, close to 100 teachers, and serves grades sixth through eighth. Students graduate to Ridge Point High School.
In addition to academics, Ronald Thornton Middle School also focuses on the importance of maintaining positive interpersonal relationships. Several clubs and sports teams make it easy for students to build relationships here. Students have their pick of basketball, football, soccer, and more for sports. Clubs offered here include Anime Club, Backyard Games Club, and Arts and Crafts Club.
Fort Bend High Schools Near Sienna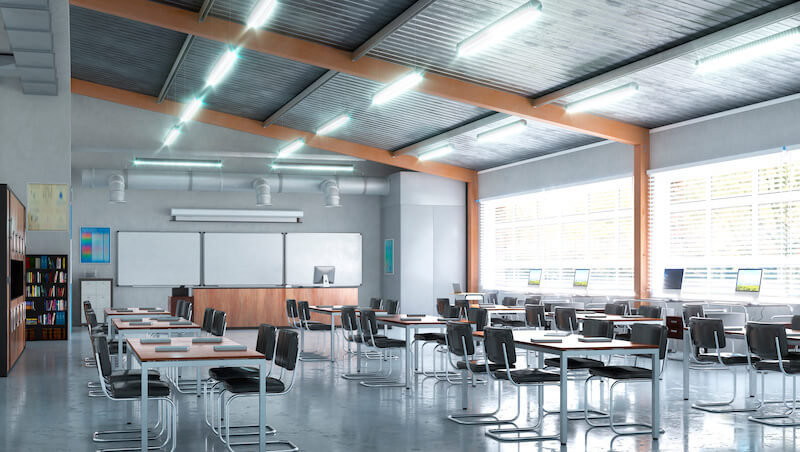 Ridge Point High School
Home to the Panthers, the students and staff at Ridge Point High School believe that there is nothing that can't be achieved through hard work and curiosity. It allows students from ninth through twelfth grade to explore their interests via the more than 200 classes offered here.
In addition to a core curriculum, Ridge Point High School offers nearly 30 AP courses, including AP classes in Statistics, Chemistry, Biology, and World History. Students also have the rare opportunity to take classes that will count towards college credits after graduation. Extracurricular opportunities include band, student government, and a drill team.
The school is located at 500 Waters Lake Boulevard and serves the majority of Sienna students.
Hightower High School
Hightower High School's population of over 2,000 ninth-through-twelfth grade students thrives in the traditional but unique high school environment tended to by nearly 150 teachers. The school is traditional in the sense that it offers standard core classes such as math and science, but its Career Academy also provides real career development opportunities in the digital media and medical science fields.
Extracurriculars offered by Hightower High School include cheerleading, marching band, orchestra, drama, dance, and more. The school is located just northeast of Sienna and serves neighborhoods that include Teal Run, Cambridge Falls, and Winfield Lakes.
Almeta Crawford High School
Almeta Crawford High School is the newest and largest high school in Fort Bend ISD, located on Caldwell Ranch Boulevard. The school is more than 485,000 square feet and will allow students to learn in a brand new and technologically-advanced environment.
Classrooms, labs, and collaboration areas are expertly designed to best engage young minds. Students will also have opportunities to benefit from technical education, participate in athletics on the various sports fields at the school, and make use of the state-of-the-art fine arts facilities the school will offer.
Private Schools Near Sienna
Divine Savior Academy
The Divine Savior Academy was the first private school in Sienna. The school educates students from pre-kindergarten through ninth grade, and its mission is to prepare all students for collegiate studies in a productive, and positive environment.
The school is designed to encourage and facilitate successful post-high school studies. For example, starting in sixth grade, students meet with a college counselor to ensure they are on the right track for their plans following high school.
Divine Savior Academy is located at 770 Waters Lake Boulevard and is not subject to neighborhood zoning. Prospective students must apply and be tested before being ultimately accepted.
Endless Options for Students Living in Sienna
In addition to a beautiful landscape and inviting community, the schools serving Sienna are plentiful and come with plenty of benefits for students. No matter which Sienna neighborhood students are living in, or what grade they are attending, there are plenty of options to choose from.