5 Texas vs. California Cities: How Does Texas Stack Up?
Posted by Texas Real Estate Source on Friday, March 4, 2022 at 10:56 AM
By Texas Real Estate Source / March 4, 2022
Comment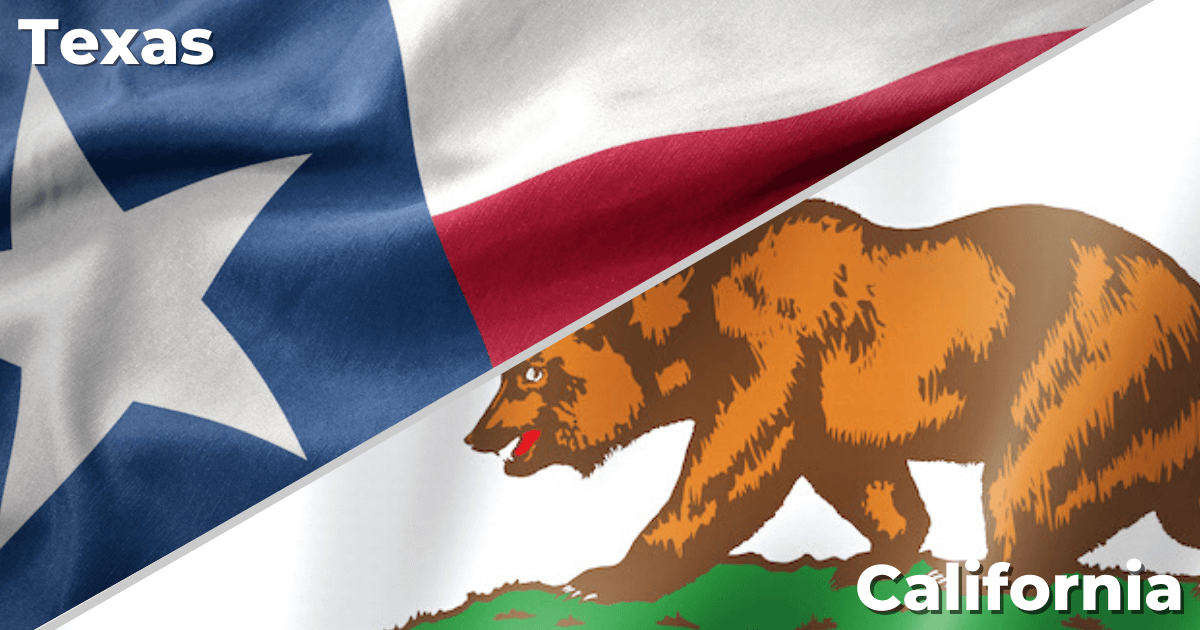 According to U.S. Census data, approximately 700,000 Californians have moved to Texas since 2010. Why are people moving from California to Texas in such droves? Texas is a great place to live with plenty of employment opportunities, a business-friendly economy, and some of the most prosperous American cities. Like California, Texas boasts a low cost of living, ample recreation areas, and up to 300 days of sunshine per year in most regions.
The similarities between Texas and California are abundant. From pristine beaches to trendy neighborhoods and a near-endless list of things to do, each state offers desirable lifestyles. The states are so similar that it seems as if there's a near-identical counterpart to the biggest cities in each state. (Is Austin the San Francisco of Texas, or is San Francisco the Austin of California?)
The appeal of The Lone Star State over The Golden State can be found in the differences. People often migrate to Texas from the West in hopes of finding similar jobs with top employers, lower population density, and more spacious homes for the price.
Will California transplants find what they're looking for in Texas?
Table of Contents
Compare Texas Cities to Their California Equivalents
The comparisons between Texas and California are as true on the state level as they are on the city level. While no two American cities are exactly identical, it's hard to ignore the similarities and differences between Texas' and California's biggest cities.
Californians searching for a better bang for their buck when buying a home will be delighted to find homes in Texas cities with more affordable median prices and larger average square footage than their California counterparts. If you're a Californian on the fence about losing touch with your lifestyle, you'll be relieved to know that Texas cities offer a bit of what you love most about life on the West Coast. Keep reading to see how Texas cities compare to their California equivalents.
Austin vs. San Francisco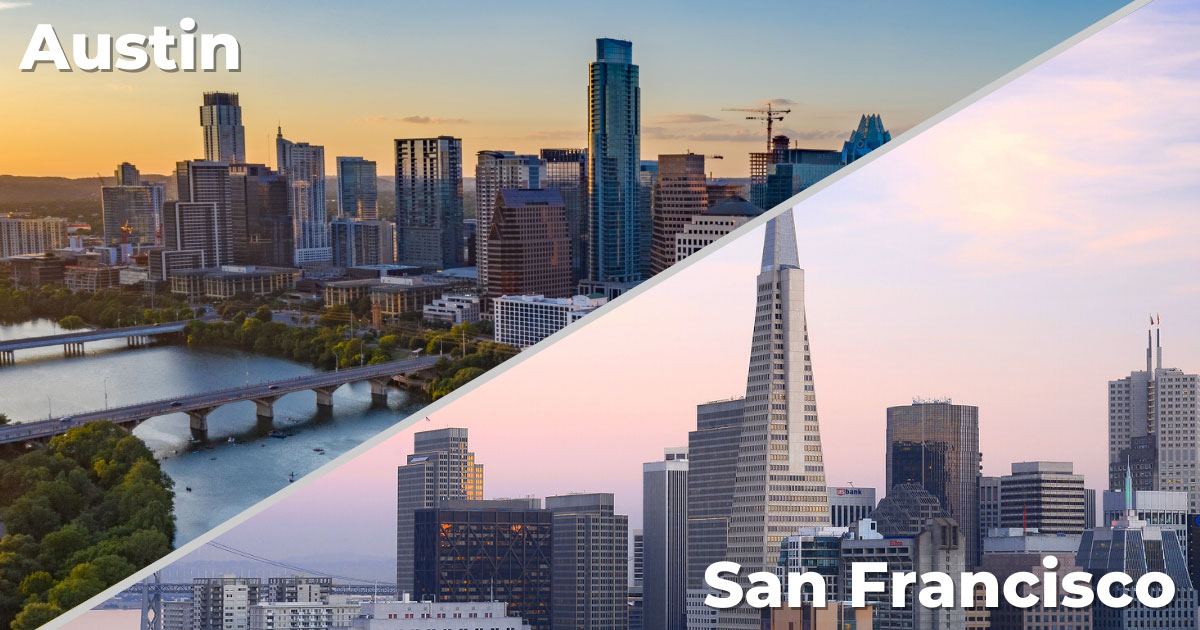 Austin
Median Home Price
Average Home Size
Population (2020 Census)
~$580,000
2,092 square feet
961,855
San Francisco
Median Home Price
Average Home Size
Population (2020 Census)
~$1.5 million
1,150 square feet
873,965
Of all the cities on this list, Austin and San Francisco draw the most frequent comparisons. They're both hilly hubs of technology, culture, and tourism. Southern San Francisco and the surrounding Bay Area is famously known as "Silicon Valley." The recent influx of tech companies to Austin has earned it the nickname "Silicon Hills."
The similarities haven't gone unnoticed by San Franciscans. Research shows that San Francisco residents are more likely to move to Austin than anywhere else in Texas.
Of course, many of them are following their jobs. In the last two years alone, numerous American companies, including key players like Oracle and Tesla, moved their headquarters to the Texas capital. Additionally, Apple established its largest office park outside of Cupertino, California, in the North Austin area.
Exorbitant rent and better prices-per-square-foot push Bay Area residents to Austin. On average, homes in Austin are approximately 950 square feet larger than homes in San Francisco, and the median price is about $900,000 less. Overall, the cost of living in Austin is more affordable than in San Francisco.
Finally, the lifestyle in the Texas capital city appeals to people from San Francisco. By moving to Austin, they can enjoy a more spacious house without sacrificing proximity to cultural attractions, sporting events, museums, and so much more. Known as The Live Music Capital of the World, life in Austin is never dull. The wealth of outdoor activities—from swimming and kayaking to hiking and biking—make Austin a desirable place to live for people from San Francisco.
Houston vs. Los Angeles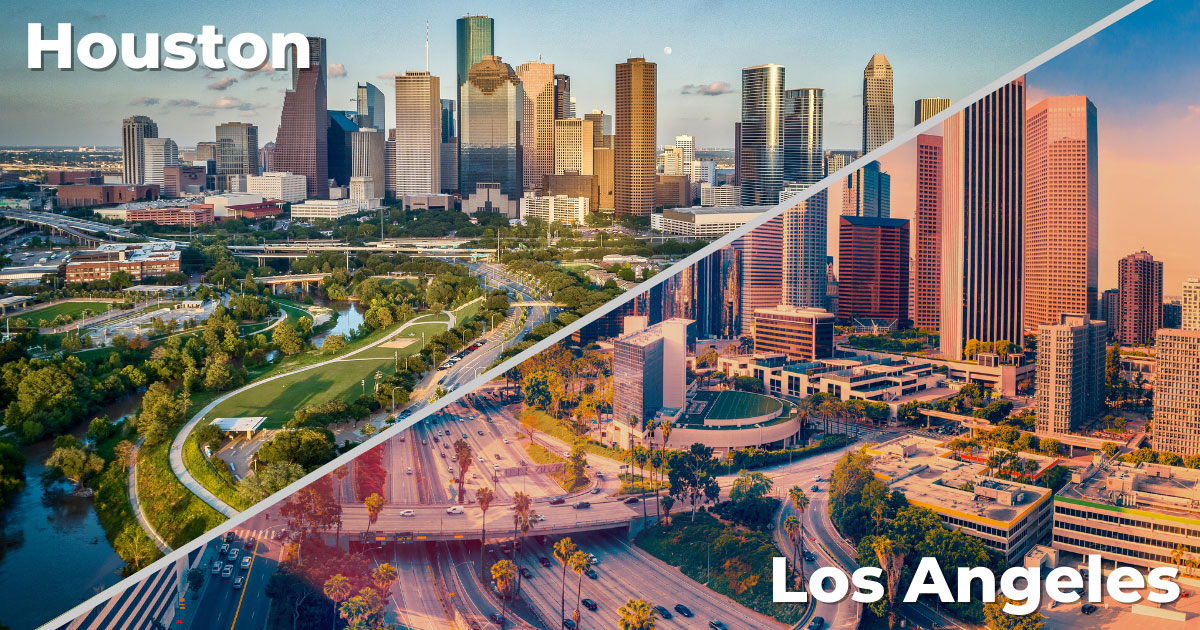 Houston
Median Home Price
Average Home Size
Population (2020 Census)
~$325,000
2,368 square feet
2,304,580
Los Angeles
Median Home Price
Average Home Size
Population (2020 Census)
~$1.5 million
1,878 square feet
3,898,747
No city in Texas has experienced a higher volume of new California residents than Houston, which has proven to be especially popular with former Los Angeles residents. In 2019, 3,263 Los Angelinos made their new homes in Harris County. That's 40% of all people who moved from California to Houston that year, begging the question: what's drawing people from Los Angeles to the city of Houston?
The two cities are strikingly similar in terms of size. By population, Los Angeles is the second-largest city in the country and Houston is the fourth largest. Each booming city spans well over 500 square miles to accommodate their large populations. Los Angeles and Houston both offer a vibrant cosmopolitan culture with many museums, attractions, professional sports teams, and more. Houston is located near the beach city of Galveston, offering shorter drives to the sand and surf than some Los Angeles neighborhoods when factoring in SoCal traffic.
The two cities have comparable economies centered on distinct industries. The City of Angels is known worldwide for its movie and T.V. production studios, while Houston is dominated by oil, gas, and other energy forms. However, these waterside cities have some overlap when it comes to shipping and receiving.
Affordability is the most significant difference between the cities. Houston, on average, offers more affordable homes with an excellent dollar-per-square foot value. Beyond housing, Los Angeles is more expensive in almost every field except healthcare. Overall, Houston's cost of living index is 96.5, while L.A.'s is 173.3.
DFW Metroplex vs. Orange County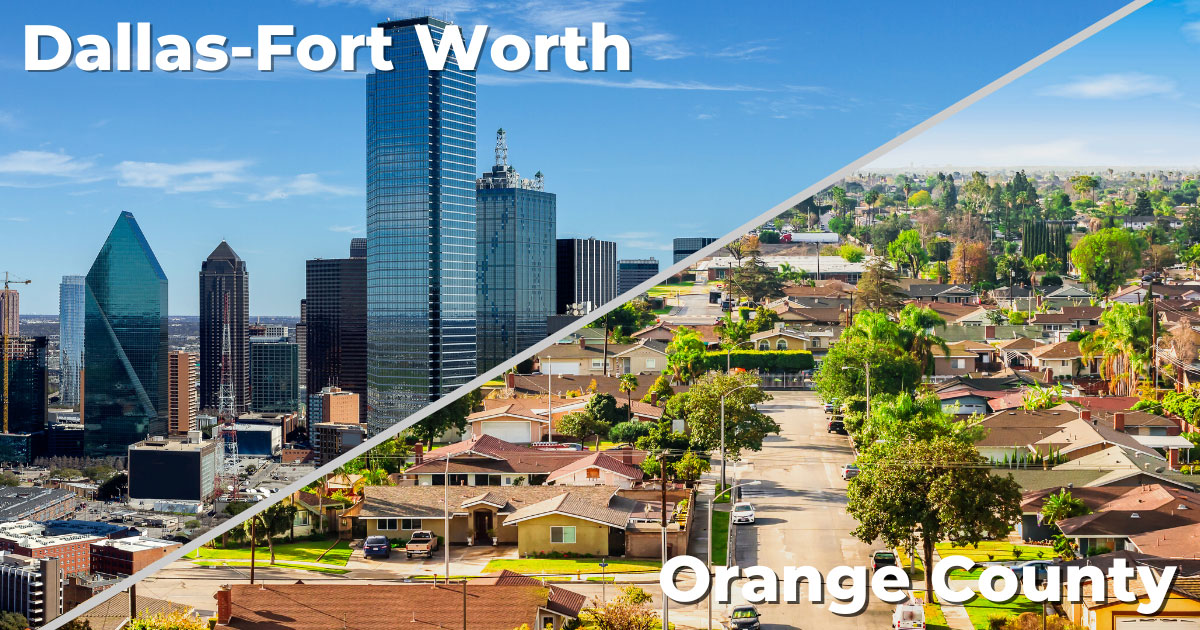 Dallas
Median Home Price
Average Home Size
Population (2020 Census)
~$415,000
2,320 square feet
1,304,379
Orange County
Median Home Price
Average Home Size
Population (2020 Census)
~$900,000
1,878 square feet
3,186,989
The DFW Metroplex seems to be the preferred choice for Californians coming from Orange County. When accounting for every county in DFW, more than 2,500 people moved from Orange County to DFW in 2019. Of those counties, Collin County (comprising cities like the Plano community, the McKinney community, and the city of Frisco), was the most popular, with 1,008 new residents from Orange County.
Conceptually, DFW and Orange County are very similar. The DFW Metroplex encompasses the city of Dallas, the city of Fort Worth, and their respective suburbs, whereas Orange County is a catch-all for Irvine, Long Beach, Anaheim, and all adjacent suburbs.
With the influx of new companies to DFW, the Dallas suburbs offer an inviting basecamp for commuters who are happy to stretch their salaries further thanks to the low taxes and the affordable cost of living. Another affordability advantage, Collin County averages higher wages and lower unemployment rates than Orange County.
Shorter commute times may also be an unexpected upside for Orange County residents coming to DFW. The average commute in the O.C. is 27.4 minutes, while Dallas's is 26.8. The difference in averages may seem negligible, but it's reflected on a greater scale across the board. For example, 6.6% of Orange County commuters report one-way drive times longer than 60 minutes, while only 5.5% of Dallas drivers have the same experience.
San Antonio vs. San Diego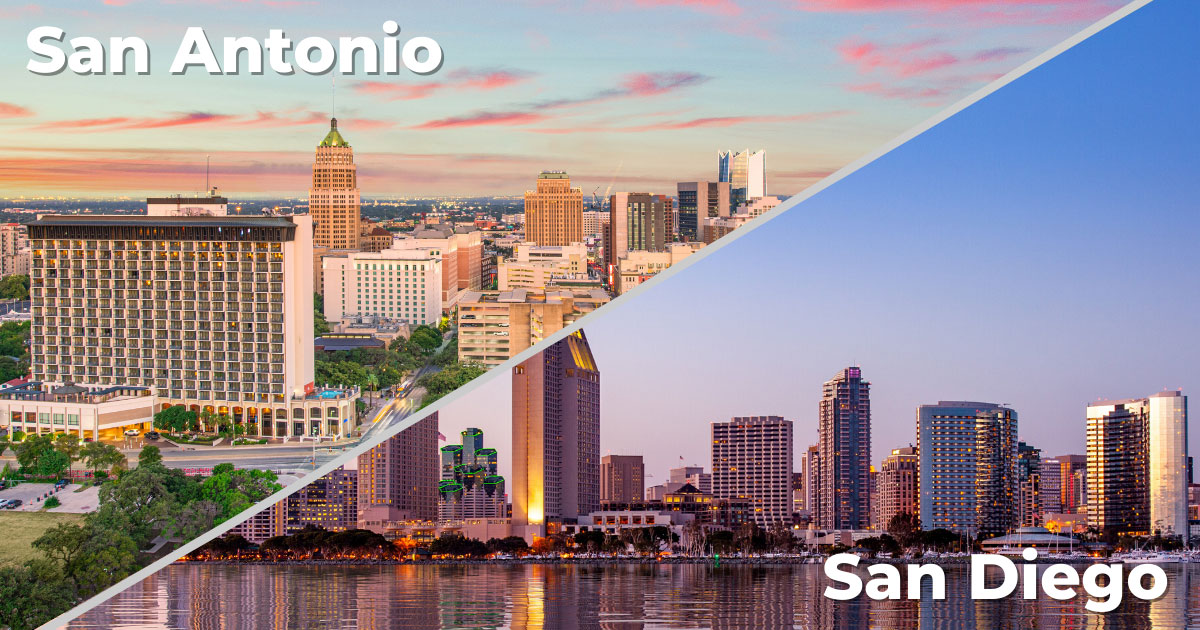 San Antonio
Median Home Price
Average Home Size
Population (2020 Census)
~$275,000
2,218 square feet
1,434,625
San Diego
Median Home Price
Average Home Size
Population (2020 Census)
~$1.5 million
1,773 square feet
1,386,932
San Diegans love San Antonio! More than 1,100 people moved from San Diego to San Antonio in 2019. So what is it about Alamo City that's so appealing?
The affordability between San Antonio and San Diego is no contest. San Antonio's cost of living index is 95.5, while San Diego's is 160.1. Median house prices in San Antonio can be up to $1.2 million more affordable than in San Diego.
Although San Antonio hasn't welcomed quite as many new California companies seeking lower taxes on businesses, there are a few stand-outs. For example, Pabst Brewing Company moved its corporate offices to downtown San Antonio and brought plans for a "culture park." The current plan is to renovate a downtown warehouse to be a hub of extreme sports, movies, and art. People from San Diego who have come to expect breweries and cultural institutions on every street will feel right at home among these changes. While Californians might miss their pristine beaches, San Antonio boasts a wealth of outdoor activities ranging from hiking and golf to boating and tubing in the nearby rivers.
El Paso vs. Fresno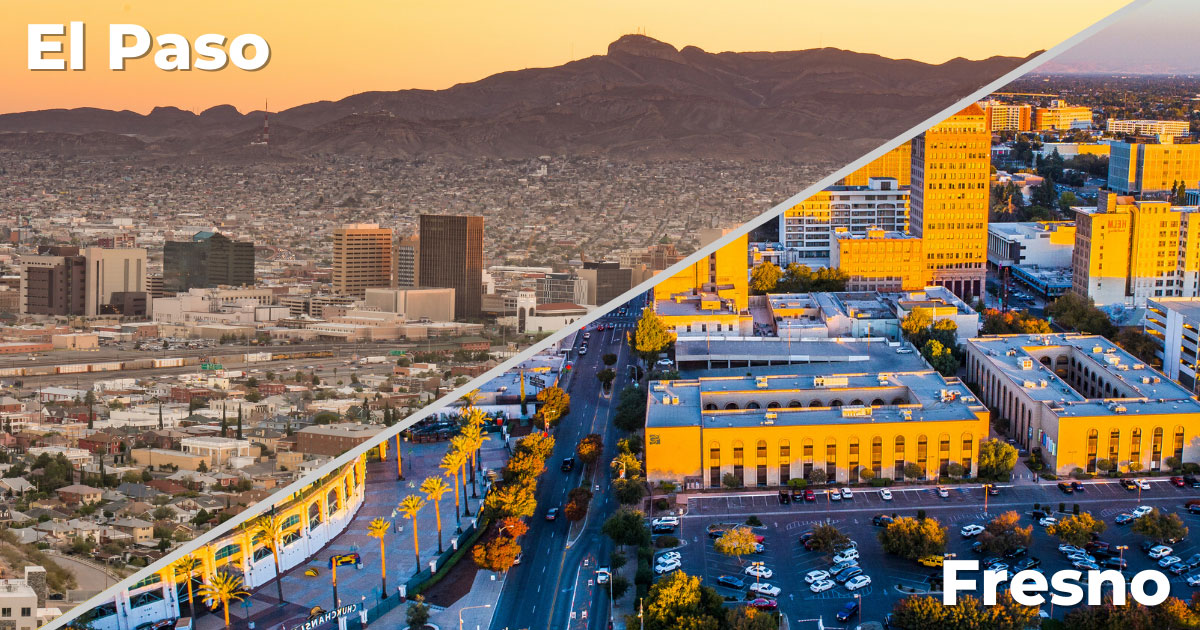 El Paso
Median Home Price
Average Home Size
Population (2020 Census)
~$220,000
1,912 square feet
678,815
Fresno
Median Home Price
Average Home Size
Population (2020 Census)
~$400,000
1,851 square feet
542,107
Rounding out the list of Texas cities is El Paso. Of all the major cities in California, Fresno seems to be the most similar to El Paso. They both have a population of around 500,000 people and an average home size just below 2,000 square feet. In terms of climate, the cities are somewhat similar. El Paso has 297 days of sunshine per year, while Fresno has 271 sunny days in one year.
Overall, each city offers a nice balance between small-town charm and big-city amenities. The lower population numbers compared to other cities on this list make for a slower pace of living in both towns. Fresno residents who love the outdoors will find that El Paso is an excellent place to reside. The proximity of the metro region to the Rio Grande allows for whitewater rafting, canoeing, fishing, and exploring state parks like Franklin Mountains and Hueco Tanks.
Once again, the stand-out difference between the two cities is median housing costs. The average home in Fresno can cost up to $150,000 more than the average home cost in El Paso. Californians in El Paso rejoice to find a significantly lower cost of living: El Paso scores an 81.4 cost of living to Fresno's 102.6. Even in Texas, it's hard to find a more affordable city than El Paso.
Why Is Everyone Moving to Texas?
This question gets thrown around a lot these days. But how true is it? The short answer is simple.
Everyone is moving to Texas for:
Jobs
Affordability
Lifestyle
The long answer is a little more complicated.
The numbers don't lie. More than 500,000 people have moved to Texas every year for the last seven years. The U.S. Census Bureau reports that more than 80,000 Californians moved to Texas in 2018 and 2019. More recent data says that more than 10% of 2020's new Texans come from California.
These numbers suggest that Texas' job market, affordability, and lifestyle are becoming increasingly appealing to Californians.
Californians Are Moving to Texas For Jobs
Texas has healthy job growth and a low unemployment rate. A comparison of the Texas economy vs California's shows that, in December 2021, Texas had a 5% unemployment rate, while California had a 6.5% unemployment rate. Furthermore, Texas is projected to have 1,340 job openings per year from 2018 to 2028. During the same timeframe, California will have an estimated 1,010 job openings every year.
The rationale for moving isn't just that there are more employment opportunities in Texas. The types of jobs also matter to West Coast transplants.
Texas has experienced an influx of California companies moving to the state due in part to its relaxed taxes on businesses. A 2021 report from the Hoover Institution found that 114 formerly Californian companies established new headquarters in Texas in just three years (2018-2021). Notable enterprises of those 114 (and possibly now more) include Fortune 500 household names and tech companies like:
Oracle
Toyota Motor Corporation
Hewlett Packard Enterprise
Tesla, Inc.
In addition to massive companies with headquarters in Texas, other powerhouses like Amazon, Facebook, Apple, and Google have large-scale offices in the state.
Californians Are Moving to Texas for Affordability
The cost of living in Texas is significantly lower than in California. On an index of 100, Texas scores 93.9 compared to California's 149.9. While California salaries are typically higher than Texas salaries by about $10,000 per household per year, the average salary stretches farther in Texas.
The most significant reason is that Texas doesn't charge income tax, meaning the state doesn't deduct money from employees' paychecks. Meanwhile, California income tax rates can go as high as 12.3% for some earners. For perspective, consider a household that earns the average California household salary of $67,169. After being taxed the standard amount for this bracket (9.3%), the total salary (before federal and local taxes) would be reduced to about $60,922. The average household salary in Texas is $57,051, and it's taxed less.
Housing is also more affordable in Texas than in California. Homes in Texas can be up to 40% more affordable than identical houses in California. In the last two years, the median home price in California has ranged from about $580,000 to upwards of approximately $680,000. In Texas, the median home price has ranged from less than $250,000 to around $280,000.
Californians Are Moving to Texas for the Lifestyle
The California lifestyle is famous around the world.
Natural beauty abounds in the state. On a list of the most coastline per state, California ranks third, with 840 miles of land touching the Pacific Ocean. The diverse landscape includes massive redwood trees, snow-capped mountains, and sprawling deserts.
Some people are surprised to find that Texas has all the same natural appeal. With 367 miles of coastline, Texas has the sixth most waterfront area in the country and many attractive beaches. From outdoor activities to vibrant cosmopolitan cities, the Texas lifestyle is on-par with California's.
The primary difference is that Texas isn't as densely populated, meaning there's more space to stretch out and enjoy the natural beauty.
There's A Perfect Texas City For Every Californian
So, really, why is everyone moving from California to Texas? The data suggest that Californians can expect to find the same top-tier quality of life in Texas at a fraction of the price.
Texas and California have a lot in common. They are large states with nationally competitive economic opportunities, fantastic weather, and plenty of fun things to do. Some people move to Texas for jobs and tax incentives, while others make the journey to be closer to the people they care about. Whatever the reason is, Texas is happy to welcome all of its new California residents.