5 Reasons to Love Living in Houston's Museum District
Posted by Texas Real Estate Source on Tuesday, January 24, 2023 at 12:27:40 PM
By Texas Real Estate Source / January 24, 2023
Comment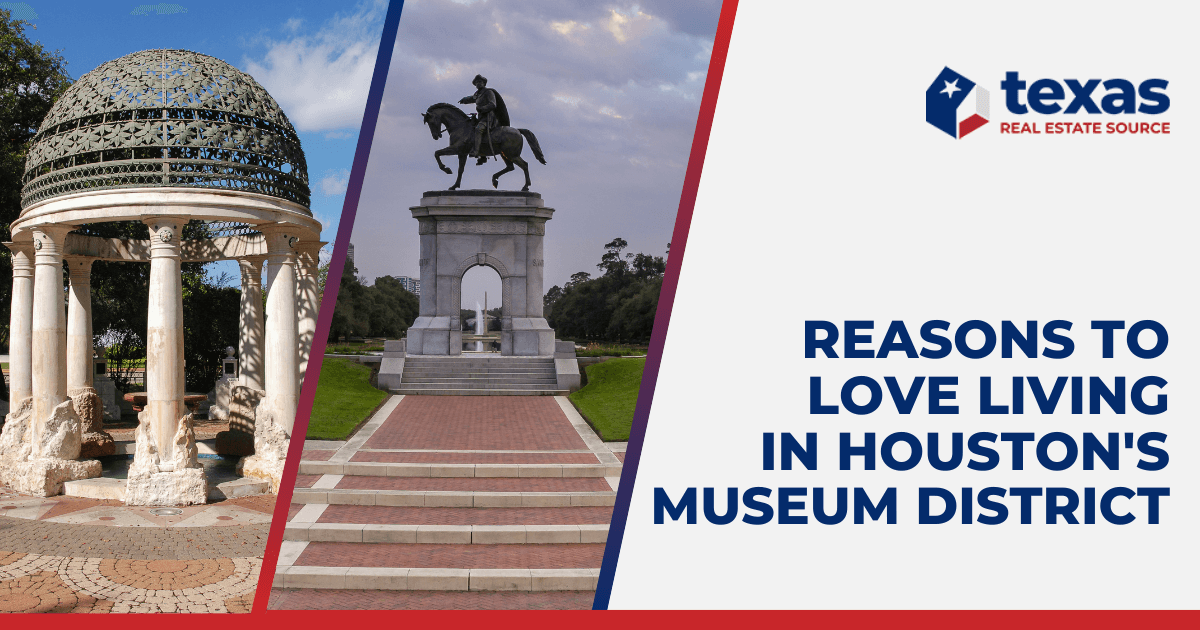 The Museum District is the perfect place for exploring inspiring art, nature, and tasty eats. It's also one of the best places to buy a home in Houston. With its convenient location and access to endless entertainment, it's hard to beat.
If you're looking for the best Houston neighborhoods to live in, look no further. The Museum District has it all.
7 Reasons to Move to the Museum District
Why should you want to live in a neighborhood full of museums? Other than the inherent appeal of being surrounded by some of Houston's best attractions, try a few of these on for size:
You'll never run out of things to do in the cultural heart of Houston
Walk or ride your bike to Hermann Park
Some of Houston's most desirable real estate
Food options from Southern comfort to hibachi to food trucks
Rice Village and other shopping centers nearby
Highly walkable neighborhood
Highly central neighborhood—less than 4 miles to downtown
Museums, Museums Everywhere
The Museum District carries its name for a good reason: this area is home to 19 institutions within walking distance of one another. Whether you want to learn more about your health and wellness at the Health Museum or check out Texas wildlife at the Houston Museum of Natural Science, the Museum District is filled with thousands of memories waiting to be made.
One of the most popular museums, The Museum of Fine Arts, Houston, is among the 10 largest museums in the United States. It features more than 65,000 works of art and has seven separate art buildings. It also offers two cafes, a repertory cinema, two libraries, and two house museums. It's a fantastic place to learn, experience exhibits, watch riveting films, and view some incredible art.
Another top museum is the Children's Museum Houston. It's rated as "America's #1 Children's Museum" by Parents Magazine and listed in Forbes, the LA Times, and USA Today. This museum features over 20 exhibits, games, and tons of special events. Forget boring Saturdays with nothing to do—let your child take part in the interactive spy experience, talk to a professional science educator about their science fair project, or invent something new. The Children's Museum Houston has something for everyone.
Many of these museums offer free admission or specific free times, so be sure to plan your visits accordingly. With so many events and exhibits to check out, there's always something happening in the Museum District.
Museums That Are Always Free
Asia Society Texas Center
Contemporary Arts Museum Houston
Diverseworks
Houston Center for Contemporary Craft
Houston Center for Photography
The Jung Center
Lawndale Art Center
The Menil Collection
Moody Center for the Arts
Rothko Chapel
Hermann Park In Your Backyard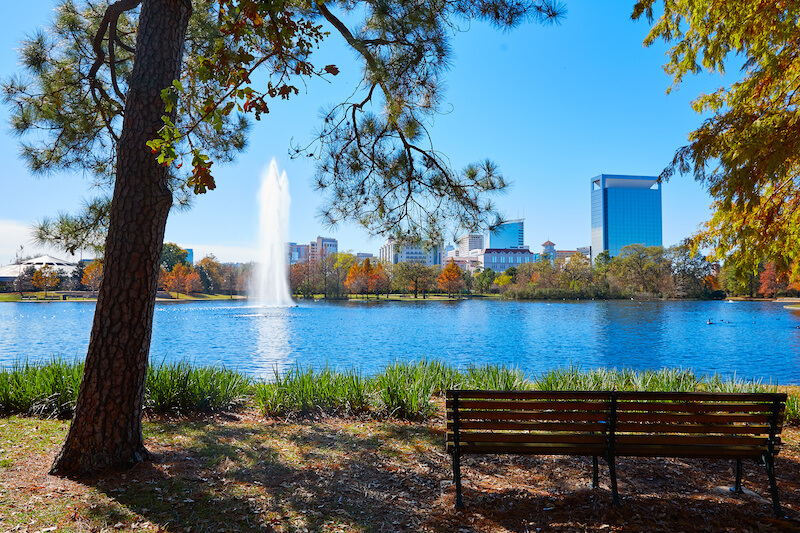 Residents of the Museum District also have easy access to 445 acres of gorgeous green space and endless outdoor recreation. Hermann Park was established by George H. Hermann in 1914. The park is bordered to the south and west by the Texas Medical Center and Rice University and to the north by the Museum District.
Hermann Park features the McGovern Centennial Gardens, Hermann Park Train and Pedal Boats, Miller Outdoor Theatre, Hermann Park Golf Course, the Houston Zoo, and more. With so many areas to explore, it's no surprise this spot is a local favorite.
Hermann Park is a beautiful place to hit the trails after a long day of work, enjoy art, and experience the great outdoors, Houston style.
Houston Homes Like Nowhere Else
The Museum District is also a great place to check out some unique homes. The area features many property types, sizes, and architectural styles. Whether you're drawn to modern mansions or historical estates, this neighborhood has many special homes to offer.
Head to streets like Jackson, Bonnie Brae, and Yoakum Blvd. to find historic properties with tons of character and charm. Many of these luxury homes feature larger lots, and some have been completely restored. They are generally larger-sized homes ranging in size from 3,000 Sq. Ft. to over 5,000 Sq. Ft. and usually range in price from $800,000 to $4 million or more. Living in a home from the early 1900s is perfect for those who appreciate one-of-a-kind features, elaborate detail, and enchanting curb appeal.
If historic homes don't match your preferences for modern styles, check out The Mond, Warwick Towers, 1400 Herman, The Parklane, or The Spires for top-of-the-line condos for sale. These communities offer excellent amenities like a 24-hour concierge, resort-style pools, valet parking, on-site guards, state-of-the-art gyms, gated entries, and more. The condos in the Museum District typically range in size from 1,800 sq. ft. to over 4,000 sq. ft. and range in price from $200,000 to $1.3 million and up. With less time spent on yard maintenance and fighting Houston traffic, you can spend more time on things you enjoy, like hitting the gym or lounging poolside with a good book.
Homes for sale in the Museum District are an excellent place to purchase prime property and experience the convenient life of a city-living Houstonian.
Walk to the Houston Zoo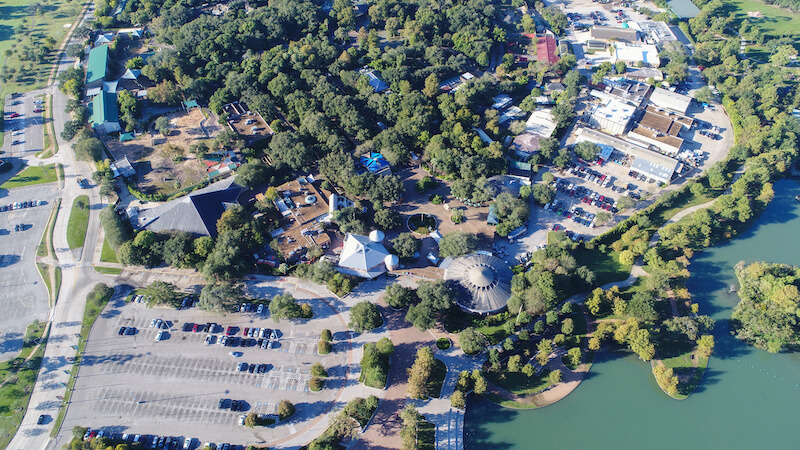 The convenient location of the Museum District also puts residents within walking distance of the amazing Houston Zoo.
The zoo celebrated its 100th anniversary with a massive renovation. It has become bigger and better to offer even more experiences for its visitors. Head to the Galapagos Island exhibit to see giant tortoises, birds, and marine animals. Seeing these animals in their habitat is an educational opportunity for the whole household. Visitors can also feed the giraffes, check out the petting zoo, and view over 50 unique animal species.
Frequent visitors can easily become members and receive benefits like free admission, not needing reservations, a dedicated member entrance, and discounted admission to over 100 other zoos and aquariums nationwide. Individual Plus memberships start at $149.
There's always something fun to see at the zoo. It's another highlight of living in the Museum District and offers residents quick access to fun on the fly.
Delicious Restaurants
This area is also well-known for its easy access to all types of cuisines. No matter what type of food you're after, the Museum District has you covered.
If you're searching for a southern staple, head to Lucille's for fried green tomatoes, cornbread, oxtails, and some fried chicken. With its stellar Google reviews by almost 3,000 happy customers, you won't be disappointed.
For the health-conscious crowd, head to Ginger Kale, Fadi's Eatery, green seed vegan, or Barnaby's Cafe for a delicious salad with fresh ingredients, fresh-pressed juice, and more. Mo' Better Brews is a fully vegan hotspot serving everything from brunch to dinner and features a garden and DJ.
The Museum District also features Texas staples like Bodegas Taco Shop, The Pit Room Barbecue, and Java Lava Brew. Living in this area, you won't have to skimp on your morning coffee, Taco Tuesday, or BBQ fix. It's the perfect place to try new things and experience local restaurants with a bit of pizazz.
And the best part? The Museum District is densely packed and full of sidewalks, making it fully walkable and bikeable. You can grab your favorite bites without ever having to start up the car.
A Houston Haven: The Museum District
With the Museum District's ideal location, easy access to restaurants, recreation, entertainment, and a variety of luxury real estate, what more could you want in a home? Imagine leaving your front door and having endless ways to spend your day. The Museum District offers so much knowledge, culture, and rich experiences that it's hard to know where to start the fun. Living in the Museum District will give you every reason to love living in Downtown Houston.