3 Reasons to Love Living Near Zilker Park in Austin
Posted by Texas Real Estate Source on Thursday, January 19, 2023 at 10:25:41 AM
By Texas Real Estate Source / January 19, 2023
Comment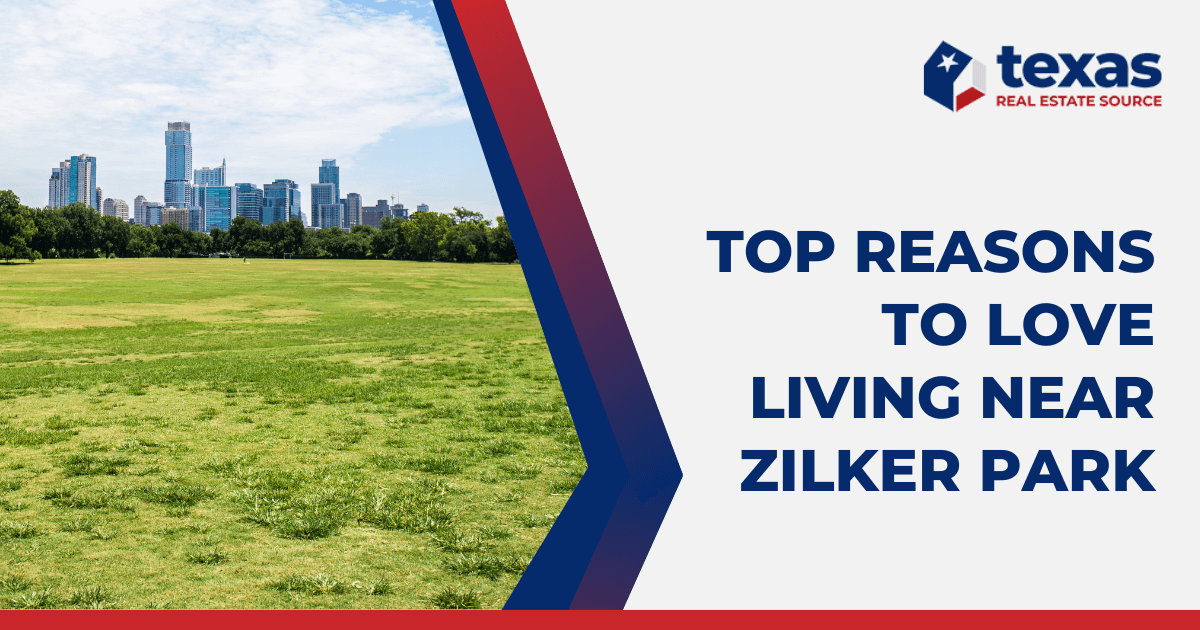 Austin is one of the most interesting places to live in Texas. There are so many things to do and places to see that picking favorites can be a tall order—but one thing Austinites can generally agree on is how much they love Zilker Park.
Zilker Park offers open green space, fun events, and opportunities to engage with the community in abundance. If you're considering moving to Austin, here are a few compelling reasons to choose a home near Zilker Park.
Easy Access to Zilker Park & Amenities
Zilker Park itself is a fantastic reason to live nearby. The 361-acre park offers a playground, picnic areas, volleyball courts, a clubhouse, bike and canoe rentals, a disc golf course, Zilker Eagle miniature train, and the iconic Barton Springs Pool. This area is also home to the Zilker Botanical Center and the Austin Nature and Science Center.
Zilker Botanical Garden earns its moniker as "a jewel in the heart of Austin." With 28 acres of nature to enjoy, there's always something new to see. From the Taniguchi Japanese Garden to the Riparian Streambed and the Rose Garden to the Hartman Prehistoric Garden, you can explore streams, waterfalls, and plants of every size, shape, and color.
Whether you enjoy the springs, the botanical garden, or the train, Zilker Park is one of the best parks in Austin. With all of its attractions, it's no wonder it's one of Austin's most popular spots.
Enjoy Zilker Park Events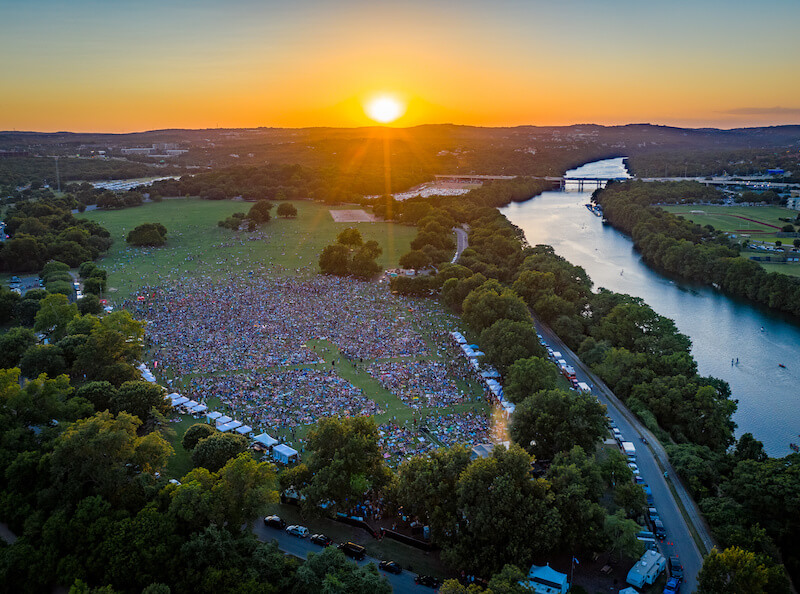 This park is also a great location to check out a wide variety of community events and things to do in Austin. The park's signature events include the ABC Kite Festival, Zilker Summer Musical, Blues on the Green, Austin City Limits Musical Festival, Zilker Holiday Tree, Trail of Lights, and more.
Are you a big fan of live music, large crowds, and experiences you'll never forget? Join the Austin Parks Foundation in October for two weekends of live music, good eats, and camaraderie at Austin City Limits Music Festival. This annual festival features an eclectic lineup of artists, nine stages, and 100+ performances, and offers a mini-fest for kids. It's the perfect place to meet up with friends and family and enjoy some good music in the sunshine.
In the spring, check out the ABC Kite Festival, one of Austin's most iconic spring traditions. Watching hundreds of colorful kites fly through the air and partaking in some of Austin's best food fare, is an experience you don't want to miss. You can also enter your kite in one of the contests like the smallest kite, best kite pilot, or most unusual kite.
Have you ever wanted to feel like you live in a Hallmark movie? At Zilker Park, you can. The Trail of Lights is Austin's most beloved and longest-running holiday tradition. With over 2 million lights and 90 lighted trees, you can experience one of Texas's best Christmas displays.
Whether you're interested in live music, kite flying, or reveling in the Christmas season and holiday lights, Zilker Park has events for all to enjoy.
Close to Other Austin Nature Attractions
The Zilker neighborhood is also close to some fantastic outdoor attractions, including Lady Bird Lake and Barton Creek Greenbelt.
At Lady Bird Lake, visitors can hike, bike, fish, watch wildlife, or take a kayak or stand-up paddleboard for a spin. It's not unusual to cast a line and catch 20-30 pound fish, including largemouth bass, sunfish, and large common carp. Visitors may also enjoy checking out the largest urban Mexican free-tailed bat colony in North America under the Congress Avenue Bridge. Lady Bird Lake is an excellent place to enjoy outdoor recreation.
Barton Creek Greenbelt is 7.9 miles long and covers 809 acres, giving a more natural experience than the more urban setting of Zilker Park. The area offers opportunities for swimming, biking, hiking, rock climbing, and bird watching. Hike along the gorgeous scenic trails to experience limestone cliff walls and a variety of wildlife. The Barton Creek Greenbelt has over 12 miles of trails and several access points, allowing you to create your own adventure. There are also multiple neighborhoods on the Barton Creek Greenbelt, so consider expanding your home search if living on the greenbelt appeals.
Communities Near Zilker Park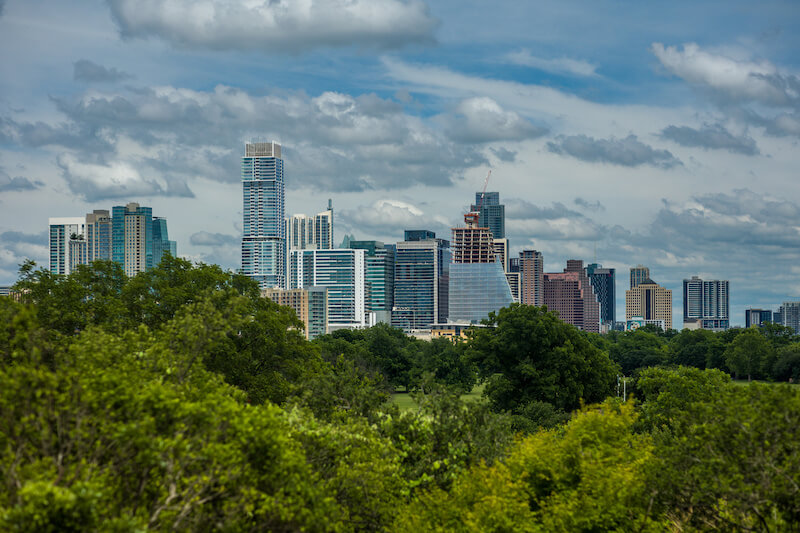 Living near Zilker Park has some major advantages. Nearby residents can take advantage of easy park access, and events, and never have to search for something to do. Here are a few great communities to buy a home near Zilker Park:
Zilker
Named after the park, the Zilker area is one of the most beloved spots in Austin. Zilker is a thriving metropolis with access to restaurants, bars, grocery stores, coffee shops, and, of course, all of the outdoor recreation you can dream of.
This area features a variety of home styles and offers a unique sense of charm. From Victorian to Modern, you can find many types of Austin luxury homes for sale in this area. Homes valued in the multi-million range are common, though there are a few on the more affordable side.
If you're looking for an established neighborhood with access to it all, Zilker is a fantastic option.
Barton Hills
Barton Hills is often referred to as Austin's most nature-friendly neighborhood. It offers beautiful lush scenery and a great location with close access to shopping, dining, and nightlife. The Barton Creek Greenbelt runs directly through this neighborhood, so there's no shortage of outdoor activities either.
Homes in Barton Hills come in almost any shape and size. While many homes continue the local trend of large luxury homes, there are a few condos for sale in the area as well.
This neighborhood allows homeowners to feel immersed in nature, with lush mature trees and plenty of greenery.
Rollingwood
Rollingwood is a small city within the West Austin area. At only 0.7 square miles, its residents enjoy a small-town feel next to big-city fun. This area is just one mile from Zilker Park and three miles from the Downtown Austin entertainment districts.
Rollingwood is certainly one of Austin's luxury neighborhoods. From multi-million contemporary mansions to luxurious custom Mediterranean estates, homes in Rollingwood reflect the area's desirability.
Homebuyers searching for top-tier luxury homes in Austin should consider starting their search in these fantastic neighborhoods.
Austin Loves Zilker Park
It's no secret Zilker Park is one of the Austin population's favorite places to be. From the fun events to the endless outdoor recreation, there's no shortage of activities to engage in. Whether you enjoy live music or long hikes through Texas nature, there's something for everyone to enjoy.
Living near Zilker Park means never having to search for something to do. Its great location, paired with exciting events, luxury homes, nearby restaurants, outdoor recreation, shopping, and bars, is almost unmatched.