Uptown vs. Downtown: Which Dallas Neighborhood Should You Live In?
Posted by Texas Real Estate Source on Tuesday, September 6, 2022 at 1:43 PM
By Texas Real Estate Source / September 6, 2022
Comment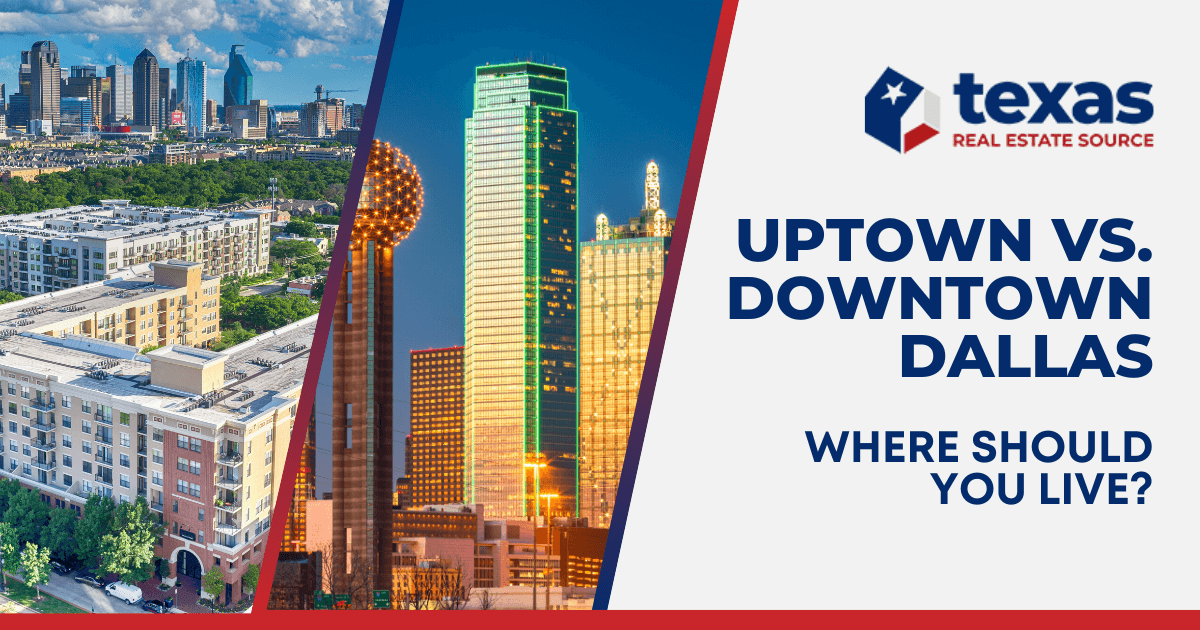 What's the difference between Uptown and Downtown? Typically, "Downtown" is considered the center of commercial activity, while "Uptown" refers to a city's suburban or residential section. However, that distinction becomes somewhat blurred when we explore Uptown vs. Downtown Dallas, and that distinction is crucial when considering homes for sale in Dallas.
Uptown and Downtown Dallas are commercial hubs within the city, but both districts offer virtually unlimited entertainment options, too. Furthermore, both sections offer significant residential opportunities, with thousands of nearby Dallas condos for sale and single-family homes to tour.
Before deciding between living in Uptown vs. Downtown Dallas, it's vital to learn about the similarities and differences between these two dynamic districts. Home buyers will then be armed with all the information needed to make the most out of living in Dallas.
Living in Uptown vs. Living in Downtown Dallas
Uptown Dallas has a vibe best described as lively. Folks who call Uptown home have no trouble finding something to do, no matter the day of the week or the time. After the many offices in the area close business for the day, McKinney Avenue's restaurants, bars, and patio cafes stay open late.
Head south just a few blocks, and you'll be in Downtown Dallas. Crowded and busy during the day, Downtown proper becomes considerably quieter once the offices are empty and the residential high-rises are filled. After hours, much of the city center's entertainment shifts to a quirky area a few blocks east known as Deep Ellum.
Comparing Uptown vs. Downtown Dallas, you'll find that both are uniquely great places to call home. Let's dig a little deeper into these popular Dallas neighborhoods to understand how they differ.
Housing
Despite some similarities between the areas, the housing markets are quite different in Uptown vs. Downtown Dallas.
Uptown real estate is comprised primarily of apartment complexes and high-rise condos. Buyers may also find some of Dallas' townhomes for sale and the occasional single-family home here. Neighborhoods include West Village with high-rise and traditional apartments, Routh South with a mix of property types, and The Pearl, with high-rise condo towers bordering Downtown Dallas. Uptown homes list from the $200s, and while most top out at $1 million, Dallas' luxury homes list for well into the millions.
Conversely, Dallas's Downtown features several high-rise condominium and loft apartment buildings, with a few mixed-use towers combining retail, office, and residential development. Downtown living space varies in size from 1,000–4,000 square feet. Downtown Dallas homes list from the high $100s and, similar to Uptown, can reach the millions.
Both parts of town offer plenty of residential living options, with numerous condos, apartments, and townhomes in the area. However, Uptown real estate prices continue trending higher than properties found across the freeway in Downtown Dallas.
Walkability and Public Transit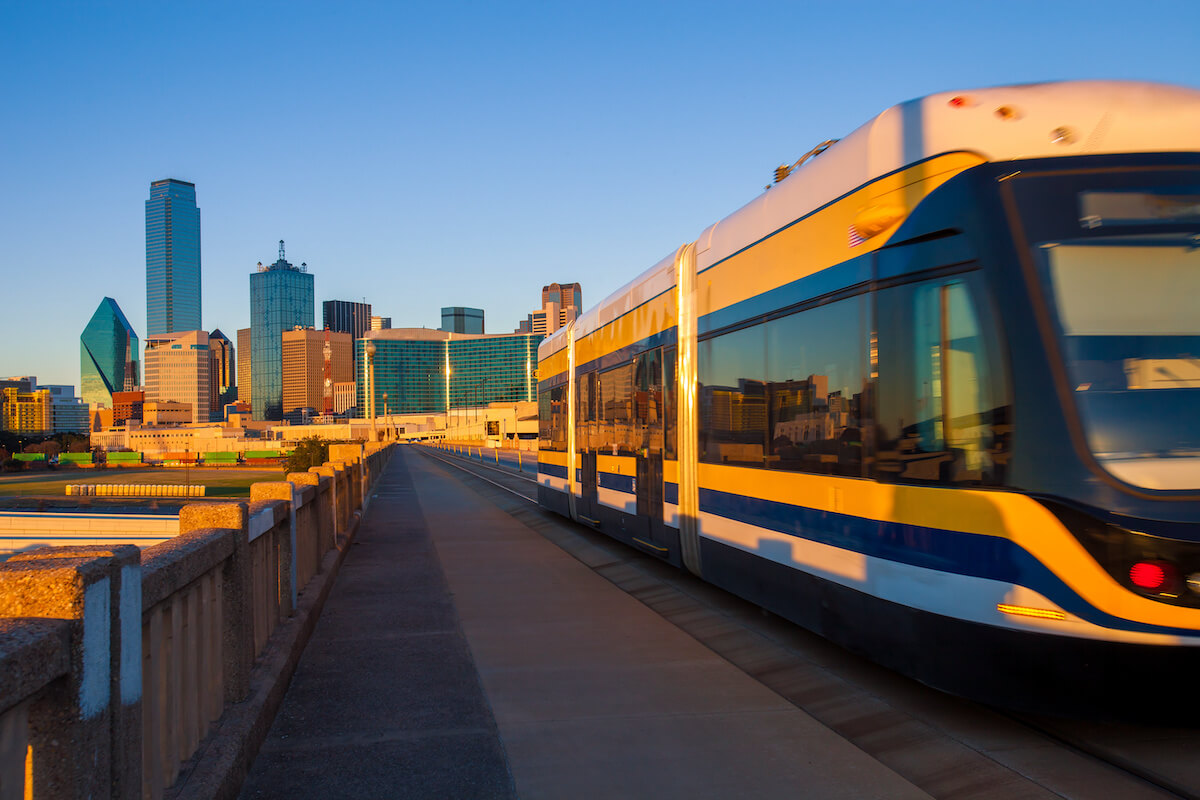 Dallas—and the neighboring city of Fort Worth—is widely considered to be a car-dependent city. Driving is the most convenient way to traverse a sprawling metropolis the size of Dallas, but the Downtown and Uptown districts are considerably more walkable than the rest of the city. With so many dining and entertainment venues scattered among the high-rises and office buildings, one of the best ways to experience these neighborhoods is on foot.
Several public transit options are also available. Uptown features the McKinney Avenue Transit Authority's M-LINE vintage trolley system, operating year-round, free of charge. The route connects Uptown with Downtown Dallas, where public transportation options include the Dallas Area Rapid Transit (DART) rail system. DART also operates the Dallas Streetcar for rides across the river to the scenic Lake Cliff Park or the eclectic Bishop Arts District.
Ride shares, cabs, and bike share services have also sprung up in both parts of the city. Suffice it to say, getting around Uptown and Downtown Dallas is not tricky.
Atmosphere
The Woodall Rodgers Freeway and the unique Klyde Warren Park form an unofficial divide between Uptown and Downtown Dallas. Both areas are business centers with millions of commercial square footage between them. Shopping, dining, and entertainment options abound. Arts and culture are also on full display throughout these sections of the city.
In many ways, the difference between the atmospheres in Uptown and Downtown Dallas is negligible. The fact remains that these two parts of town are among the most popular places to live, work, and play in the entire metroplex, thanks to the amenities and activities therein.
Things to Do in Uptown Dallas
Uptown is, without a doubt, one of the coolest neighborhoods in Dallas. Some of the city's most exciting shopping, dining, and entertainment venues stand side-by-side on McKinney Avenue, the district's main drag. Uptown also showcases an abundance of arts and culture. Several museums, galleries, and theaters are home here. Art in Uptown spills onto the streets with a fantastic collection of public murals and installations. Elsewhere in Uptown, numerous trails, parks, and playgrounds provide plenty of fresh-air fun for residents.
Uptown Dallas Nightlife & Restaurants
Bar hopping is a popular activity along McKinney Avenue. Spanning the entire length of the district, McKinney features dozens of spots to drop in for a drink, catch a game, or hang with friends after work. Time to walk the dog? Grab a beer and a chair on the patio for "Yappy Hour" at Mutts Canine Cantina.
Dining options in Uptown are varied enough to please any palate. Moroccan, Vietnamese, Spanish, French, Japanese, and American flavors can all be found within blocks of one another. Among favorite Uptown Dallas restaurants is Fearing's at The Ritz-Carlton, where celebrity chef Dean Fearing serves a bold Southwestern menu. Be sure to stop in for Sunday brunch.
With so many Uptown Dallas nightlife, dining, and other entertainment options, this part of town is a natural date night destination. A favorite hangout is The Rustic, featuring farm-to-table flavors, local craft beers, and lots of live music.
Uptown Dallas Attractions
Uptown's cultural scene is among the most exciting in the metroplex, home to numerous theaters, galleries, and museums showcasing diverse visual and performing arts.
Catch an indie film at The Magnolia Theatre or enjoy an Uptown Players production at the historic Kalita Humphreys Theater. Art lovers are encouraged to explore the unique abstract exhibits at the Museum of Geometric and MADI Arts. No art appreciation tour through Uptown is complete without a visit to the Bivins Gallery, featuring contemporary local and international pieces.
Vibrant outdoor murals contribute to the Uptown neighborhood's unique aesthetic. Head to the West Village area to experience street art as you've never seen before.
Uptown Dallas Parks and Outdoor Activities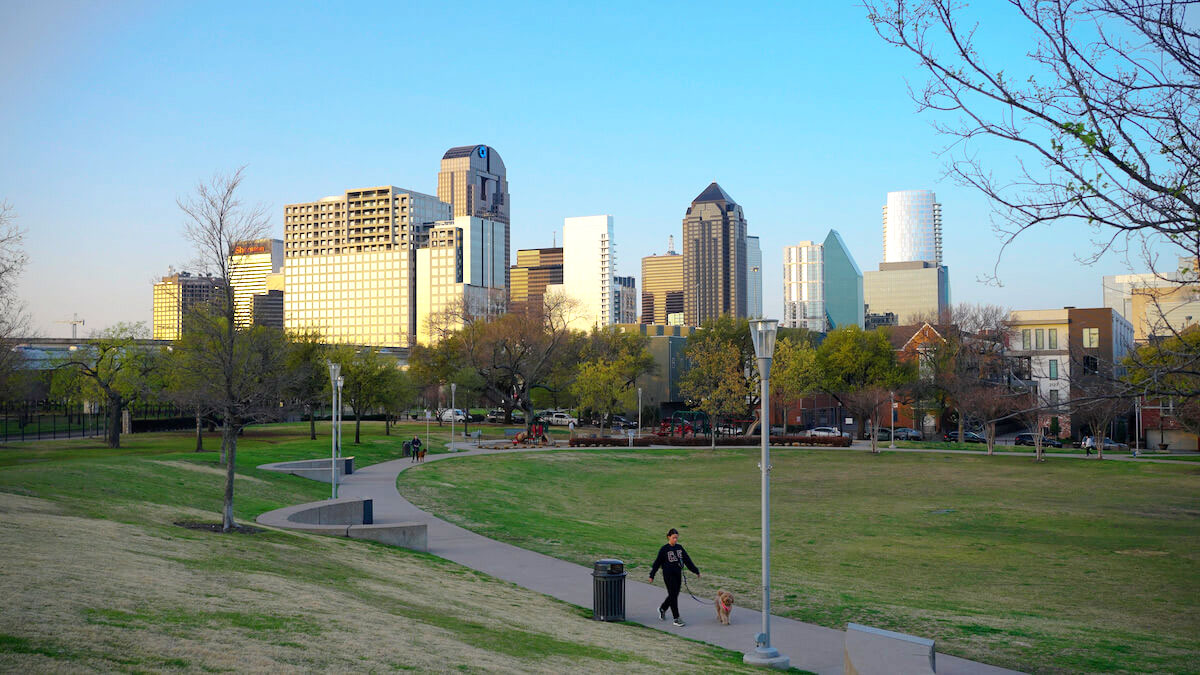 Joggers, bikers, and hikers looking for a little fresh air can find it on Katy Trail. This beautiful 3.5-mile green belt was initially built on an old railroad line. The trail runs parallel to Turtle Creek, from Downtown across the length of Uptown, ending near the Southern Methodist University campus. More than just a nature path, numerous events are hosted here, including the annual Katy 5k and the seasonal "Holiday on the Trail" celebration.
Nearby pet-friendly Griggs Park offers an 8-acre urban oasis in Uptown Dallas, with picnic spots, playgrounds, and plenty of places to sit and relax. On the north end of Uptown, Cole Park provides residents with multi-use sports courts and playscapes.
Arts, culture, and music pervade Uptown Dallas. Several of the city's most exciting restaurants, shops, and entertainment venues can be found here, side-by-side with the district's many employers and businesses. Maintaining a healthy work-life balance is critical, and doing so is easy in Uptown. But what about Downtown?
Things to Do in Downtown Dallas
Crossing the freeway south of Uptown will put you in the city's center. Residents living in Downtown Dallas might find themselves amid the hustle and bustle of business during work days. But, once the workday has finished, enjoy an abundance of entertainment, dining, and outdoor fun just down the street from the Downtown offices.
Downtown Dallas Nightlife & Restaurants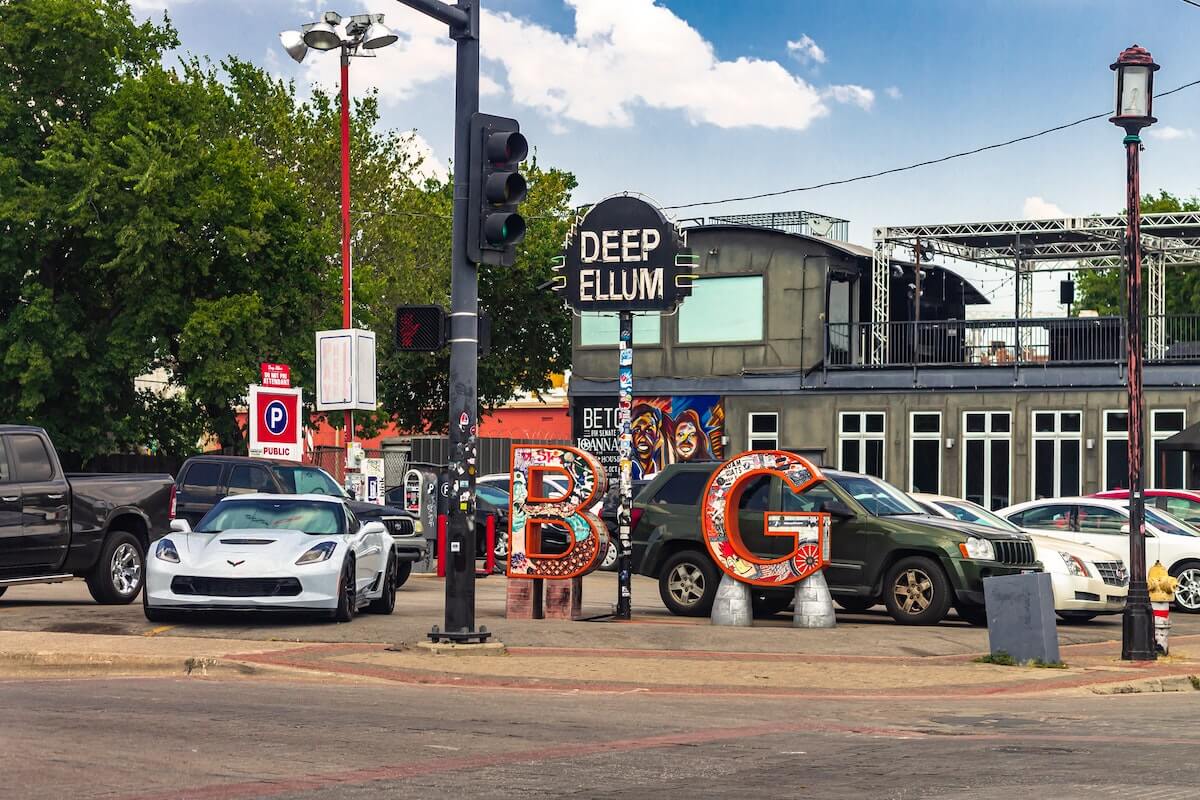 Downtown restaurants serve an assortment of international and local flavors. Enjoy a refreshing horchata at Salsa Limon, try the BBQ Pig Tails at CBD Provisions, or tuck into a Texas staple with the Chicken Fried Steak at Ellen's Southern Kitchen.
With loads of places to eat and drink, Deep Ellum is also a hotspot for some of the coolest bars and best live music venues in Dallas. Favorite concert venues include the converted WWII ammunition plant known appropriately as "The Bomb Factory." Nearby, Adair's Saloon and the legendary music venue Trees also host many great acts.
Downtown Dallas Attractions
Some of the city's most intriguing attractions are Downtown. And there's a bunch of them, too. For example, the list of museums is almost endless: the Dallas Museum of Art, the Museum of Illusions, the Sixth Floor Museum at Dealy Plaza, the Holocaust & Human Rights Museum, and the Crow Museum of Asian Art are just a few.
Several iconic structures are located Downtown. Reunion Tower, one of the city skyline's most recognizable features, offers visitors an observation deck with a 360-degree view of Dallas. Closer to the ground, you'll find the AT&T Discovery District, a Downtown destination combining culture, entertainment, and technology into a one-of-a-kind entertainment experience.
Performing arts have a home Downtown as well. At the district's north end are several theaters, with the AT&T Performing Arts Center being the largest. Other venues in this corner of town include the Dallas Black Dance Theatre, Dallas Symphony Orchestra, Dallas Opera, and the Montgomery Arts Theatre.
Downtown Dallas Parks and Outdoor Activities
Much of the outdoor activity in the area centers around Klyde Warren Park; considered an engineering marvel, this five-acre park is built on a deck hovering over the Woodall Rodgers Freeway. Bridging Downtown and Uptown, the park offers regular activities like yoga, outdoor concerts, and movie nights.
Pioneer Plaza, located in the middle of Dallas's Downtown district, is not to be missed. The four-acre public space is most well-known for its large bronze sculptures depicting a longhorn cattle drive. Native plants, trees, and a waterfall are also features of the park.
Tucked in among the Downtown high-rises is the Dallas Farmers' Market, another must-see Downtown destination. Since the early 1940s, city center residents and visitors have had access to the freshest produce, meat, eggs, and more, grown and raised locally in North Texas.
Thousands of people work inside the many towering office buildings Downtown, many of whom also live in the district. When the workday ends, a quick elevator ride to the street and a short walk down the block has them eating, drinking, and being merry in no time.
Uptown vs. Downtown Dallas? Tough Choice, Easy Living
As you can see, deciding between living in Uptown vs. Downtown Dallas—like choosing between living in Dallas or Fort Worth—isn't as cut and dried as it might seem. Aside from some distinctions in the housing market, both areas are surprisingly similar.
These two sections in the middle of the city are neighbors, separated by one of the most enjoyable outdoor spaces in Klyde Warren Park. Each spot hosts some of Dallas's most influential arts and culture, and both Uptown and Downtown are home to the city's best restaurants, bars, and nightlife; Dallas's best activities are located in the Uptown and Downtown areas.
Downtown Dallas and the Uptown district provide everything anyone needs for a quality, well-rounded lifestyle. Being forced to decide between two of Dallas's most accessible and lively parts of town is a good problem!