Patio Homes in Houston: What Are They & Are They Right For You?
Posted by Texas Real Estate Source on Wednesday, June 7, 2023 at 11:23:11 AM
By Texas Real Estate Source / June 7, 2023
Comment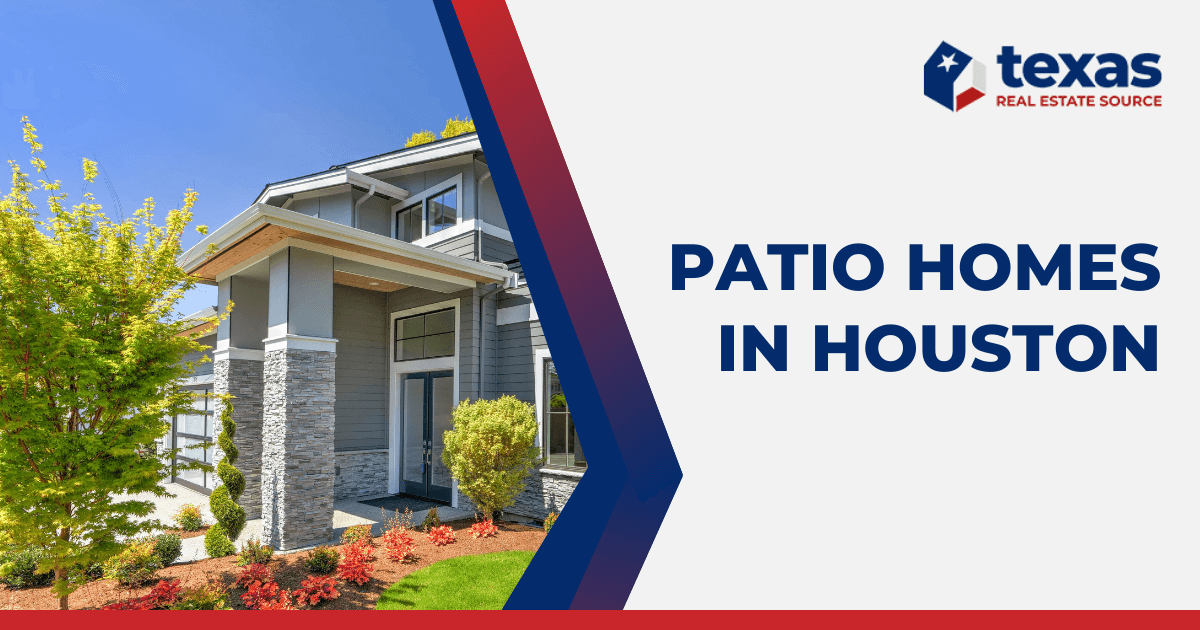 With their distinctive features and unique benefits, patio homes have become an increasingly popular housing option for individuals seeking a low-maintenance lifestyle without compromising on comfort and style. Those considering this type of home should delve into the world of Houston patio homes to gain valuable insights into their design, amenities, and advantages. Whether you are a first-time home buyer, looking to downsize your home for retirement, or simply in need of a change, equip yourself with the knowledge you need to make an informed decision about patio homes in Houston.
What Is a Patio Home?
Buyers browsing real estate listings for patio homes are frequently met with a confusing collection of property descriptions. Depending on who wrote the listings, the same residence may be described as a townhouse, condo, villa, or patio home. So, what exactly is a patio home, and how does it differ from other property types?
A patio home is a free-standing residential structure with a small outdoor space (usually on one side) that directly abuts one neighboring home, meaning a windowless wall of the other home effectively serves as a fence and sits on the property line, hence the term "zero lot line." Patio homes are usually on compact, well-landscaped lots and may also be known as garden homes. Now that you know the true definition of a Patio Home, you'll often discover many properties are misclassified.
Patio homes in the city of Houston generally feature cozy, single-story floorplans at 2,000 square feet or less; however, significantly larger multi-story luxury properties are also common, especially inside Loop 610. This home style is growing in popularity in Houston, primarily because of its low maintenance costs and overall affordability relative to other property types. Patio or garden homes are typically found in many of Houston's master-planned communities and 55 plus communities, where HOA-supported services like round-the-clock security and lawn maintenance allow residents to enjoy a true lock-and-leave lifestyle.
Patio homes may also be referred to as:
Garden homes
Courtyard homes
Row houses
Cluster homes
Detached townhomes
Zero lot line
Villas
Patio Homes vs. Townhomes
The terms "patio home" and "townhome" are sometimes used interchangeably; however, there are several distinctions separating the two. Patio homes tend to feature single-story floorplans, whereas townhome residences are often multi-floor layouts. Townhomes are typically attached as well, sharing one or more walls with neighboring properties, versus patio homes that, by definition, are free-standing dwellings detached from any adjacent structures.
Townhomes and patio homes do share some similarities, particularly regarding the land underneath the structures. In most cases, ownership of townhouses and garden homes includes the property the buildings are on. Buyers considering townhomes for their affordability, reduced maintenance costs, and overall smaller footprints will undoubtedly want to explore listings for patio homes as well, especially in light of the confusion and crossovers in defining the two.
Patio Homes vs. Condos
One of the primary differences between condos and patio homes is that condo owners do not normally own the exterior property, just the interior or airspace of the residence. Patio home ownership, on the other hand, usually includes the land. Like townhomes, condos may share one or more walls with neighboring units, whereas garden homes are stand-alone structures. And, like townhouse floorplans, condo residences often span multiple floors, while the typical patio home is a single-level layout.
Why Buy a Patio Home?
Homebuyers have found several benefits to buying a patio home. Among the top reasons homebuyers ultimately decide to buy a patio home in Houston is the price, with such properties generally costing significantly less than traditional single-family homes. Lower maintenance costs and the ability to enjoy a lock-and-leave lifestyle are typical of Houston patio home communities as well, with security, exterior maintenance, and landscaping commonly included in HOA dues. And HOA fees are usually lower compared to condos and single-family properties.
Patio homes in Houston's best master-planned developments also provide residents with a variety of top-shelf amenities. Resort-style swimming pools, championship golf courses, and tennis and pickleball courts are among the favorite activities and attractions in these communities. Parks, playgrounds, and paved hiking and biking trails are standard features in Houston's patio home neighborhoods, as well.
Pros of Patio Homes
Affordability relative to other housing
Reduced maintenance expenses
Top-shelf community amenities
More private than townhomes or condos
Cons of Patio Homes
Potential for proximity to neighboring properties
May require HOA membership
Modest lot size
In short, patio homes are typically affordable homes on smaller lots that can be a perfect situation for anyone who doesn't want the headache of single-family maintenance but is looking for more privacy or autonomy than they could find in a condo or townhouse. Although you may have HOA fees, you can rest assured that the neighborhood is kept to certain standards and reap the benefits and amenities available as a perk of belonging to the community.
Growing Availability of Patio Homes in Houston
With demand on the rise, a significant number of new construction homes, including patio homes, are currently hitting the market. New residential construction is frequently found in master-planned developments, and patio homes have become particularly popular inside gated communities, surrounding golf courses, and within active-adult neighborhoods.
The single-level layout of most patio homes makes them especially ideal for 55-and-up communities, and their low-maintenance nature is perfect for retirees and empty-nesters looking to enjoy a more carefree lifestyle. The typical patio home neighborhood also offers significant amenities like resort pools, racquet sports, and ample outdoor recreation.
Growing in popularity throughout the country, demand for patio homes in Houston has continued to expand as well, both in the city's suburban communities and its inner-loop neighborhoods.
Best Places for Houston Patio Homes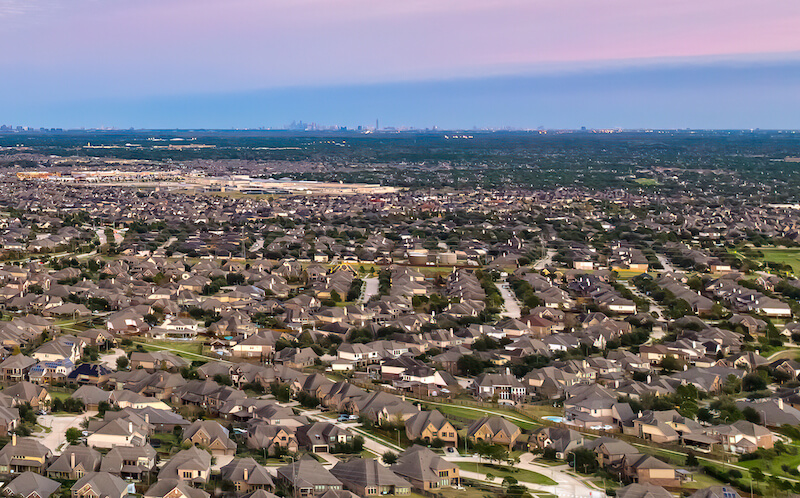 Houston patio homes can be found throughout the city, and prices average in the high $400s, though listings vary depending on the age and location of the property. In general, patio homes outside Houston's Loop 610 are less expensive than similar inner-loop real estate. Among the top communities where buyers can find patio homes in Houston is The Woodlands community, a popular master-planned residential development north of the city. Comprised of multiple villages and various property types, The Woodlands features several neighborhoods with garden homes priced from the mid-$200s.
Elsewhere, in the city of Katy on the west side of Houston, there are plenty of new and recent construction patio homes priced from the $300s in the community of Elyson. Similarly priced patio home properties can also be found in the sprawling residential development of Cinco Ranch along Grand Parkway.
In the southwest corner of the Greater Houston metro in the master-planned community of Sienna, homebuyers will find several neighborhoods with patio homes priced from the mid-$200s. The Riverstone development, near the Brazos River and south of the city of Sugar Land, also features patio home neighborhoods, including some properties with relatively larger floorplans compared to the typical garden home.
Houston's inner loop communities generally have a higher price point than comparable outer loop real estate and often feature older construction homes and updated vintage properties. Among the areas where buyers can find Houston patio homes for sale in the inner loop is one of the best neighborhoods in Houston, The Heights, known for its numerous historical renovations. Here buyers can find a variety of classic patio home properties priced starting from the $500s.
Nearby, the Rice Military area between Buffalo Bayou and I-10, adjacent to Memorial Park, features patio homes from the $600s. Buyers looking for property in Houston's Upper Kirby and Greenway Plaza neighborhoods will find several patio homes scattered among the abundance of townhouses and condos. Prices in Upper Kirby start from the $800s, about the same as patio homes in the Montrose section of the city, just a few blocks away. Here, buyers will find a mix of older, updated homes and tear-downs making way for new construction.
Another popular inner-city area with patio homes is Houston's Museum District near Hermann Park. Patio home-style properties in this part of town commonly list from the $400s.
Consider Patio Homes for Simplified Houston Living
Patio homes in Houston offer a compelling housing solution for those seeking a blend of convenience, comfort, and style. With their low-maintenance features and attractive amenities, patio homes provide an opportunity to enjoy a relaxed and vibrant lifestyle in one of the most dynamic cities in the United States. From beautifully designed outdoor spaces to the convenience of community amenities, patio homes offer a sense of community while still providing privacy and independence. Take the leap and discover the joys of patio home living in this diverse and thriving city; your dream home might be just a step away.