10 Reasons Why People Are Still Moving to Texas in 2023
Posted by Texas Real Estate Source on Thursday, July 6, 2023 at 10:07:21 AM
By Texas Real Estate Source / July 6, 2023
Comment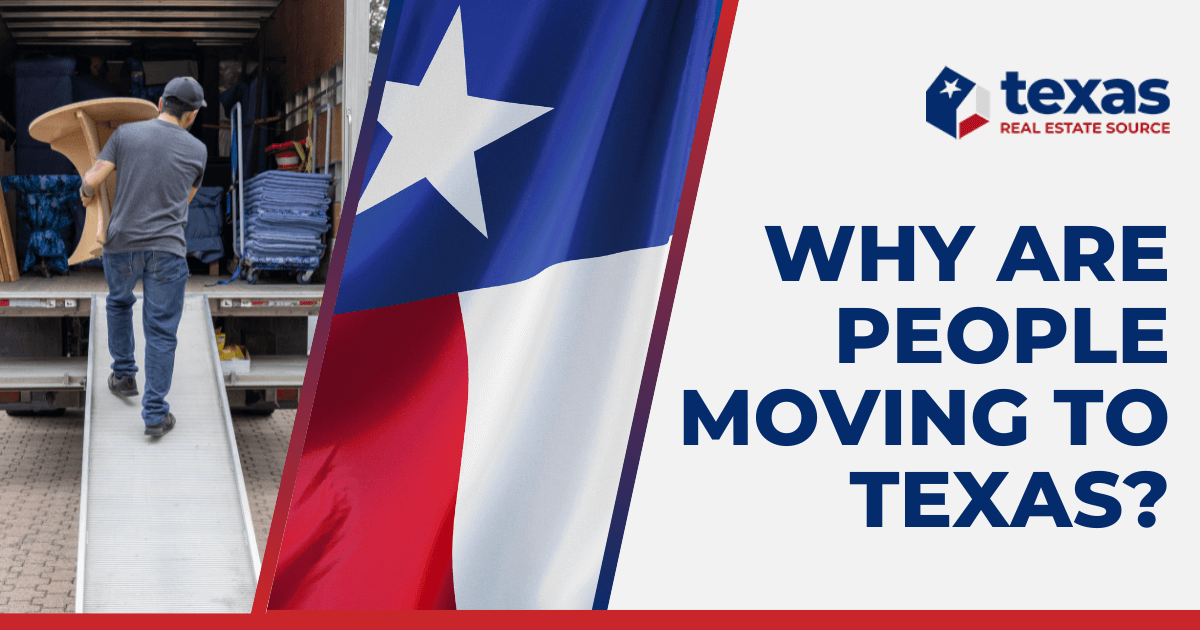 Have you noticed the buzz around Texas lately? From its booming economy to the affordable cost of living, the Lone Star State has become a top destination for people seeking a fresh start. There are many reasons why it's still worth moving to Texas in 2023, including its strong job market, diverse culture, and pleasant climate. So pack your bags and let's dive into the heart of Texas!
Short Summary
A booming economy driven by energy, technology, and manufacturing
Affordable living with no state income tax and various other tax incentives
Diverse culture & thriving sports scene make it an attractive option for relocation
Texas' Booming Economy & Top Industries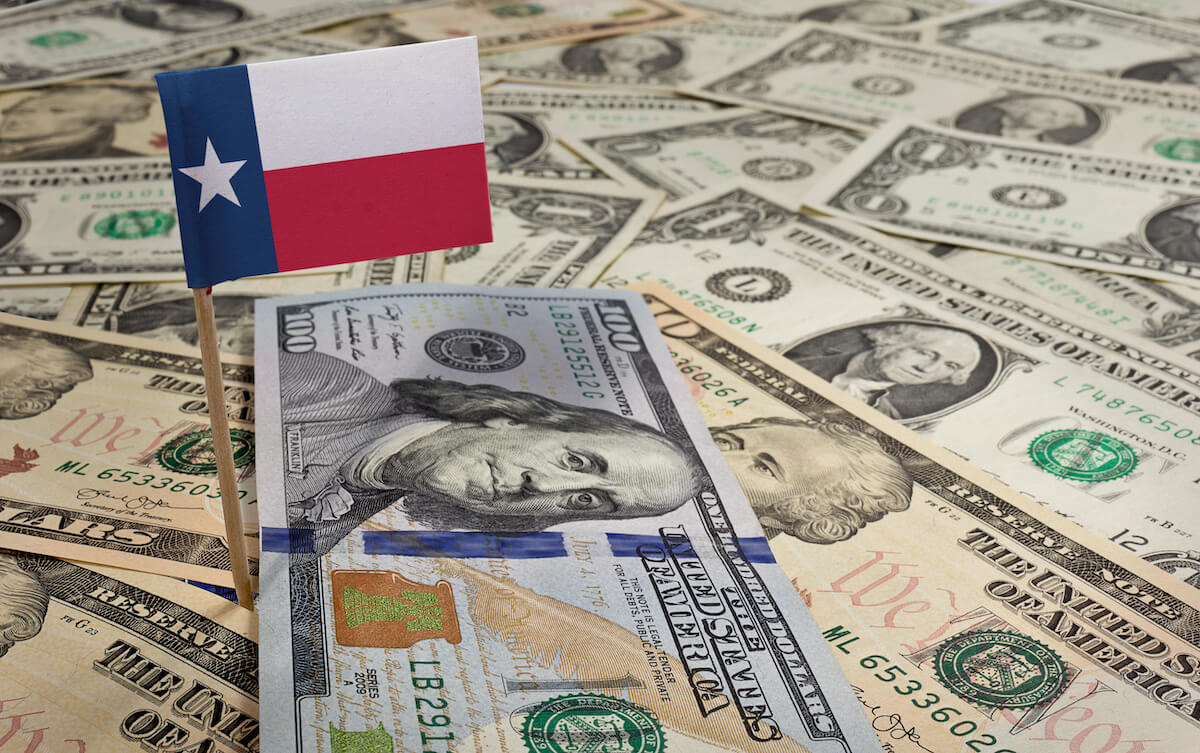 At the core of Texas' appeal for many is its flourishing economy. With a population growth rate of around 16%—more than double the nation's 7.4%—and a strong job market, Texas has become a magnet for job seekers and businesses alike. Key industries driving this economic boom include energy, technology, and manufacturing, providing varied employment opportunities.
Energy
The oil and gas sector has long been the backbone of the Texas economy, contributing approximately 9% of the state's GDP and supporting hundreds of thousands of jobs. Nearly a third of the nation's refinery capacity and three-quarters of its petrochemical production is housed in Texas. The impact of the oil and gas industry on Texas' economy cannot be overstated, with Fortune 500 companies such as ExxonMobil, Phillips 66, and Valero Energy headquartered in the state. Houston has often been called the Energy Capital of the World, as Houston's economy is driven in part by thousands of energy-related companies.
However, Texas' energy industry doesn't stop at oil and gas. The amount of renewable energy produced by Texas is staggering—nearly 34 million megawatt-hours' worth of renewable electricity. For comparison, #2 is Washington, with just over 25 million. Texas produces over 25% more, primarily in wind energy but with substantial solar energy and nuclear energy markets.
The abundant job opportunities in this sector, offering salaries averaging somewhere around $89,000 and going up to around $140,000, have played a significant role in drawing job seekers to Texas.
Technology
Not to be outshined, the tech industry in Texas is rapidly expanding, making the state a hub for innovation and job creation. Major tech corporations such as Google, Apple, and Microsoft have established a presence in Texas, further diversifying the state's economy and providing high-paying jobs to residents. The city of Austin has joined the ranks of California's Silicon Valley and Oregon's Silicon Forest, gaining the moniker "Silicon Hills."
Additionally, prominent aerospace companies like American Airlines, Southwest Airlines, NASA, Boeing, and Airbus have set up their headquarters in Texas, solidifying the state's reputation as a sought-after destination for businesses.
Manufacturing
Manufacturing is yet another driving force behind Texas' thriving economy. Top manufacturers in the state include Fortune 500 heavyweights like Lockheed Martin, General Motors, KBR, and Dell, providing diverse job opportunities and contributing to the state's economic growth.
The manufacturing sector in Texas includes quite a bit of advanced manufacturing, such as semiconductors and petrochemicals. Close to 900,000 people are employed by Texas' manufacturing industry, powering nearly 12% of the state's GDP. These jobs are also well-paid, with an average salary of over $90,000 according to the National Association of Manufacturers.
The presence of these industries in Texas cities not only bolsters the state's economy but also attracts a skilled workforce seeking secure and well-paying jobs.
Affordable Living in the Lone Star State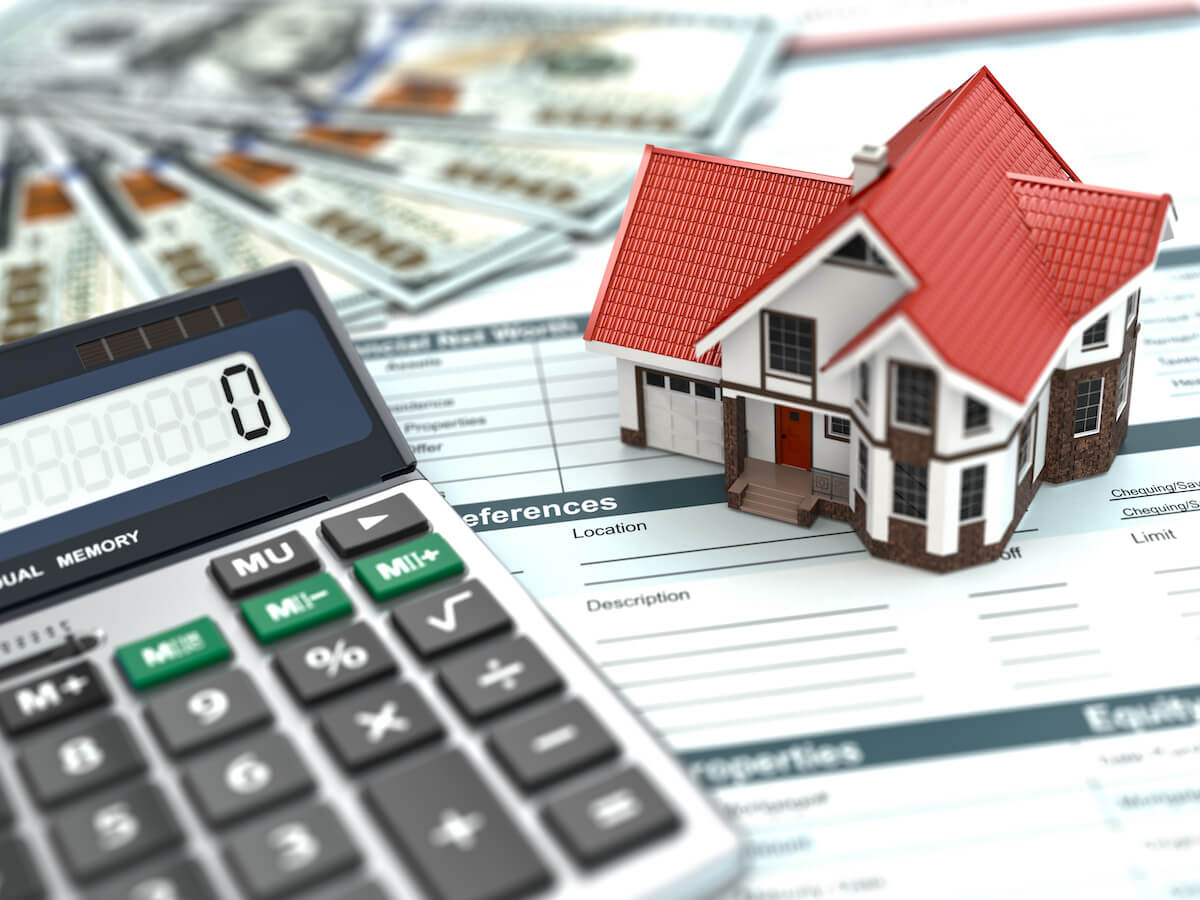 Aside from the booming economy, Texas offers an affordable cost of living that appeals to individuals and families alike. With housing costs, consumer prices, utilities, and transportation costs generally more economical than in other states, it's no wonder people are flocking to Texas. In fact, the cost of living in Texas is around 8% lower than the national average, making it an attractive option for those considering relocation. Overall, Texas is a cheap place to live.
Median Home Price
One of the most significant factors contributing to Texas' affordability is its housing market. The median home price in Texas is lower than the national average—around $335,000 compared to around $436,000—making it an attractive option for homebuyers.
Depending on the city, home prices in Texas are higher or lower than the national average, even among its largest cities. For example, housing costs in Houston are generally more than 10 percentage points below the national average, while in Austin, home prices are typically about 15 points higher.
On the whole, Texas offers a more affordable lifestyle without sacrificing quality, attracting newcomers from across the country. The affordability in housing is just one of the many reasons people are moving to the Lone Star State.
West Coast Comparison
When compared to the expensive West Coast, Texas offers a far more affordable lifestyle. California, home to cities like San Francisco, has a cost of living index of roughly 150 compared to the national average baseline of 100, while Texas comes in at around 94. When it comes to the cost of living in Texas vs. California, there's almost no comparison—Texas is more affordable.
In terms of housing costs alone, California's median home price is nearly double that of Texas. Additionally, costs such as groceries, healthcare, and transportation are generally lower in Texas than in West Coast states like California. This affordability makes it easy to see why so many Californians are moving to Texas.
Utilities & Transportation
Utilities and transportation costs in Texas are generally lower than in other states, contributing to the overall affordability of living in the state. It's no surprise, given the dominance of Texas' energy industry. The typical monthly cost for utility bills in Texas is approximately $400/month, with costs varying depending on property size, number of occupants, and appliance usage.
Additionally, Texas offers affordable transportation, with gas prices typically below the national average.
Tax Advantages: No State Income Tax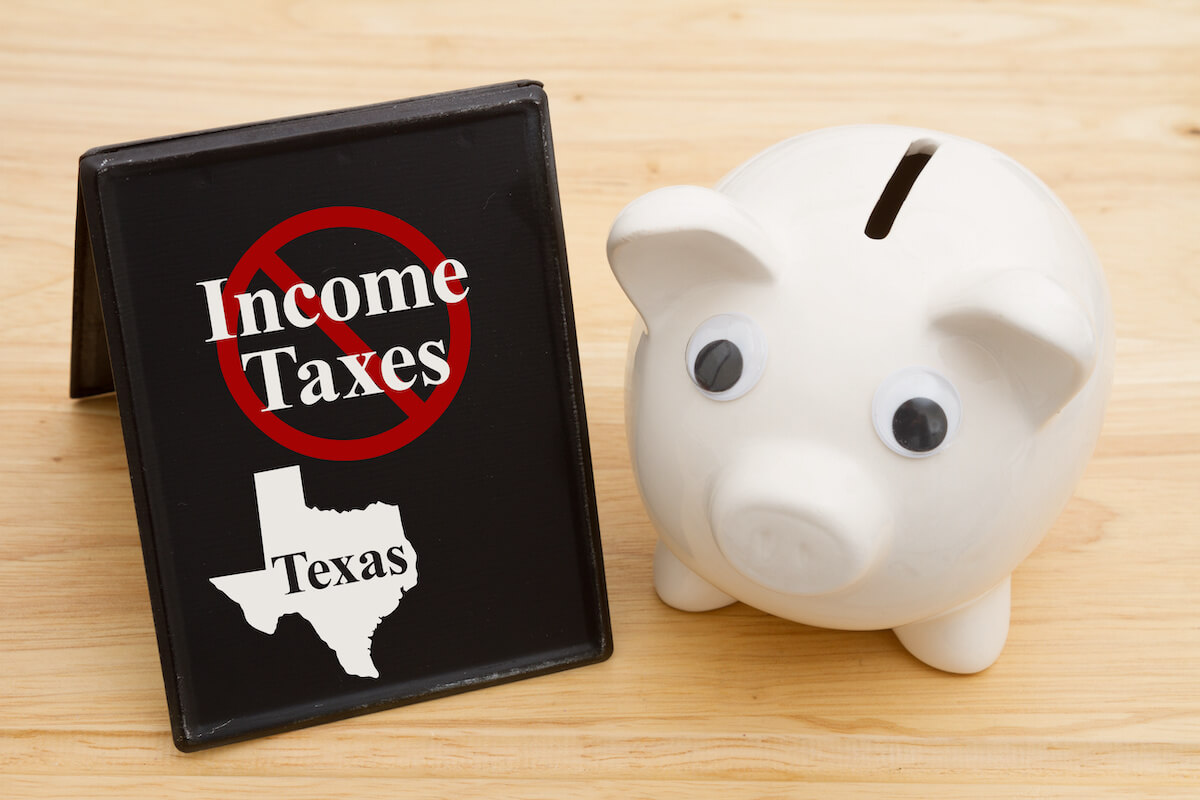 Another significant advantage of living in Texas is the lack of personal state income tax, which saves many workers a significant chunk of cash. Not only do individuals benefit from the absence of state income tax, but businesses can also take advantage of various tax incentives that the state offers.
Income Tax Savings
The absence of state income tax in Texas is enshrined in the state constitution, providing a significant financial advantage to residents. This tax benefit allows residents to potentially save thousands of dollars annually, making moving to Texas an attractive option for many.
In fact, Texas is one of only seven states that do not impose a personal income tax, setting it apart from states like California, where residents face higher tax burdens.
Tax Incentives for Businesses
In addition to individual tax savings, businesses also benefit from various tax incentives in Texas. The state offers a range of tax incentives for franchise business relocation, renewable energy, research and development, and other state economic development. Texas also provides an exemption on sales tax for certain data center equipment and infrastructure, making it an attractive option for businesses considering relocation to the state.
This is, of course, on top of other business-friendly economic incentives in Texas, such as the Texas Enterprise Fund and Texas Enterprise Zone Program. These incentives can help businesses save money and encourage job creation and capital investment. It's really no surprise why so many businesses move to Texas.
Texas Has Top Universities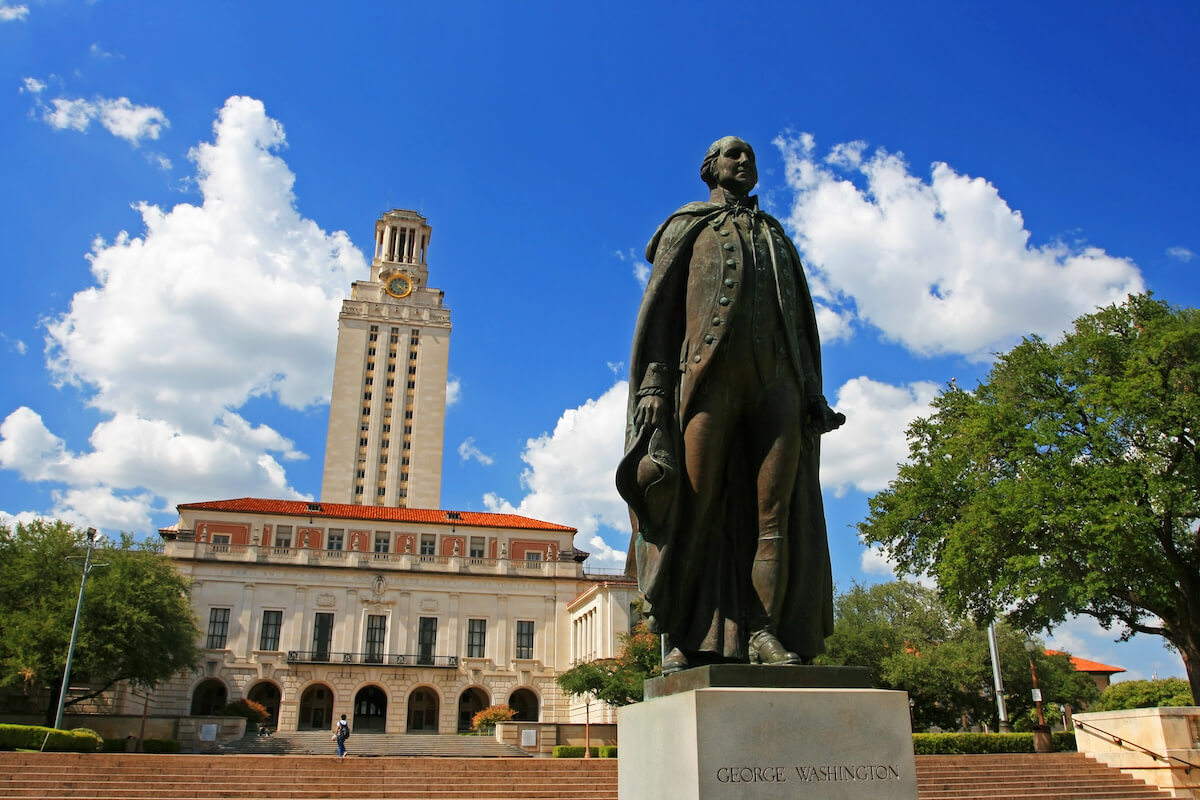 Texas is not just about affordability and economic prosperity; it also offers some of the most highly-ranked universities in the country. The state is home to renowned institutions such as the University of Texas, Southern Methodist University, and Rice University, providing students with excellent academic programs and research opportunities.
By offering a high standard of education, Texas also attracts a skilled workforce that contributes to the state's robust economy. This helps to create a strong and vibrant economy that benefits all Texans.
University of Texas
The University of Texas at Austin is the flagship institution of the University of Texas System and is ranked 38th in the National Universities category in the 2022-2023 edition of Best Colleges. This prestigious university offers a wide range of undergraduate and graduate degree programs across 18 colleges and schools.
Additionally, the University of Texas at Austin is home to various research facilities, such as the Texas Advanced Computing Center, the Institute for Geophysics, and the Institute for Cellular and Molecular Biology.
Southern Methodist University
Southern Methodist University, located in Dallas, is another prestigious institution in Texas that is highly regarded for its impressive academic programs. The university is ranked #72 out of 443 National Universities, as reported by US News and World Report.
Offering a variety of academic programs such as business, engineering, law, and medicine, Southern Methodist University attracts students from across the nation seeking a quality education.
Rice University
Located in Houston, Rice University is a highly-ranked research university with a focus on science and engineering. The university is ranked #15 among National Universities by U.S. News & World Report, #147 in the world by Times Higher Education, and #100 by QS World University Rankings 2023.
Known for its rigorous academic programs and emphasis on research, Rice University attracts top students from around the world seeking a world-class education. This prestigious institution also recognizes schools that share its commitment to academic excellence and research.
Embracing Diversity: A Melting Pot of Cultures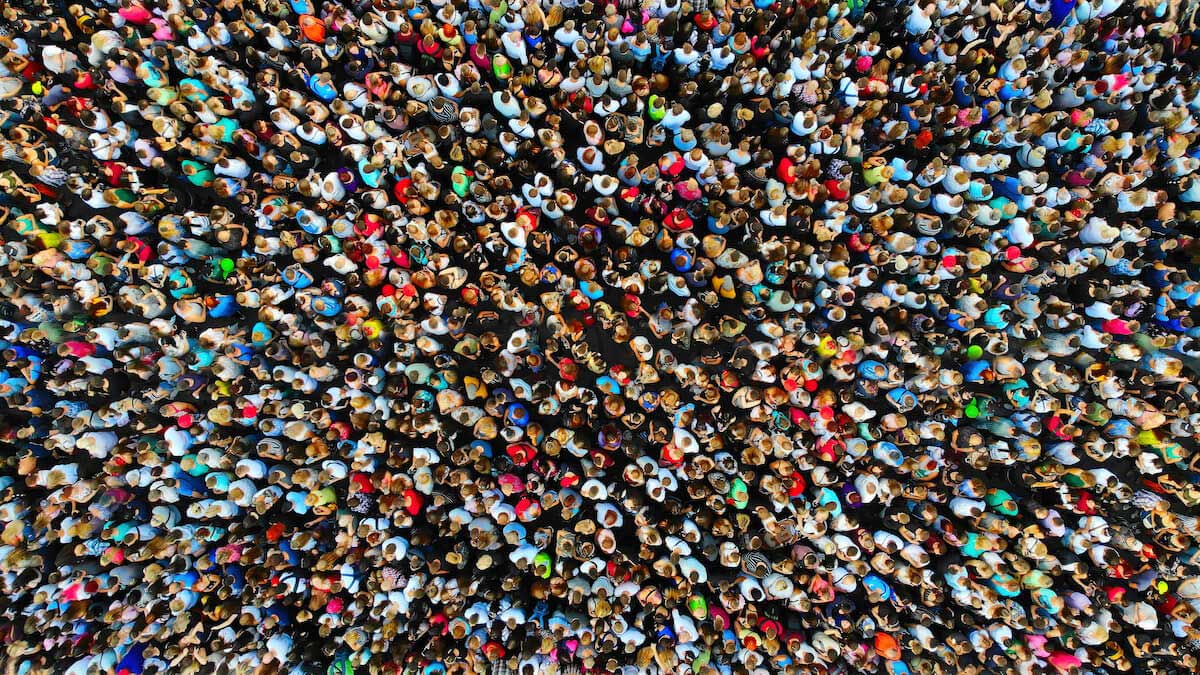 The diverse culture of Texas is another reason people are drawn to the state. Ranking as the second most diverse state in the United States, Texas is a melting pot of cultures, languages, and political views. This diversity enriches the state's communities and contributes to the unique culture found in Texas cities. The cultural diversity of Texas is a major draw for people from all over the world.
Languages Spoken
A multitude of languages are spoken in Texas, reflecting the state's population. Spanish, Vietnamese, and Chinese are the most widely spoken languages in the state.
This rich blend of languages adds to the vibrant culture found in Texas cities, making it an ideal place for people from all walks of life to call home.
International Migrants
Texas also attracts international migrants, who contribute to the state's vibrant and innovative cities. Approximately 40% of those who moved to Texas from 2015-2019 were from outside the U.S. These countries included China, India, and Mexico, among others.
These international migrants bring with them a variety of skills and perspectives, further enriching the state's communities.
Political Diversity
Despite being politically diverse, Texas residents come together to create a welcoming and inclusive environment. The state is predominantly Republican, but there are also significant liberal communities in cities such as Austin and Houston.
This political diversity contributes to the rich culture of Texas and fosters a sense of unity among many residents.
Climate & Outdoor Activities

Another attractive feature of Texas is its pleasant climate, which offers a variety of outdoor activities for residents to enjoy throughout the year. The state has a warm and sunny climate, with mild winters and hot and humid summers.
This favorable weather allows for year-round outdoor activities and events, making it an ideal place for those who love to spend time outdoors.
Warm Weather Benefits
The warm weather in Texas provides numerous benefits, such as year-round opportunities for outdoor activities like swimming, hiking, camping, and fishing. Additionally, the state offers an extended growing season, which can be beneficial for farmers and gardeners alike. This warm weather also means Texas is a popular snowbirding destination.
With plenty of sunshine throughout the year, many new residents are moving to Texas to escape colder climates.
Texas Has all Four Seasons
While Texas is known for its mild weather, the state also experiences all four seasons, providing a full range of weather conditions and recreational opportunities. In the northern part of the state, temperatures can be lower and snowfall may occur during the winter season, while the southern part of the state experiences milder temperatures.
This variation in seasonal temperatures allows residents to enjoy a range of outdoor activities, from hiking in the cooler months to swimming during the hot summer season, all while appreciating the comfort of air conditioning when they return home.
Recreational Opportunities
The state of Texas offers numerous recreational activities for residents and visitors alike. From hiking and biking to water sports and outdoor dining, there's something for everyone in Texas. The state's beautiful lakes, state parks, and hiking trails provide ample opportunities for outdoor enthusiasts to explore and enjoy.
So whether you're a thrill-seeker looking for your next adventure or simply someone who loves spending time in nature, Texas has got you covered.
Family-Friendly Cities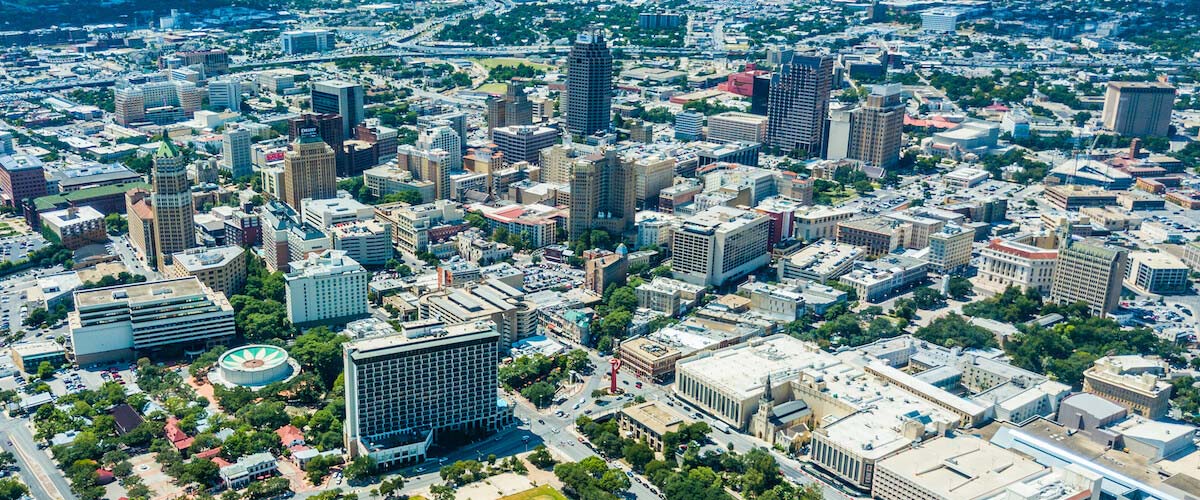 Texas is also known for its family-friendly cities and neighborhoods, making it an ideal place to raise a family. Most cities in Texas offer low housing prices, mild weather, and plenty of things to do with kids.
With its strong economy, affordable cost of living, and diverse culture, Texas is a perfect place for families to call home.
San Antonio
San Antonio is one of the most affordable big cities in Texas. With a median home price in the mid-$300s, homes in San Antonio offer an attractively low cost of living for families looking to settle down in the area.
There's plenty to do for all ages, too. From historical sites like the Alamo to amusement parks such as Six Flags Fiesta Texas, San Antonio has something for everyone in the family to enjoy.
Houston
Houston, the largest city in Texas, has an equally large variety of things to do for all ages. There are more than two dozen free splash pads, 30+ public pools, one of the best zoos in the country, and entire districts for museums and theater. This variety of family activities extends to day trip destinations like the Kemah Boardwalk and Galveston Island.
When it comes to the real estate market, it's easy to find an affordable house. Homes in Houston have a median home price of a bit under $400,000, with many single-family homes listing in the mid-$300s or below.
Austin
Austin, the state capital of Texas, is another popular choice for families and young professionals due to its strong job market, outdoor activities, and unique culture. It's one of the top big cities in Texas for parkland per capita, with only Plano having more green space per person. Single-family homes in Austin and its surrounding suburbs can start as affordably as the $200s and $300s, giving growing households an accessible entry point to the real estate market.
There are plenty of things to do with kids in Austin, too. Attractions like Zilker Park, Barton Springs Pool, and the Austin Aquarium provide fun for all ages. Austin is also centrally located, giving residents an ideal starting point for weekend trips throughout the state.
Thriving Sports Scene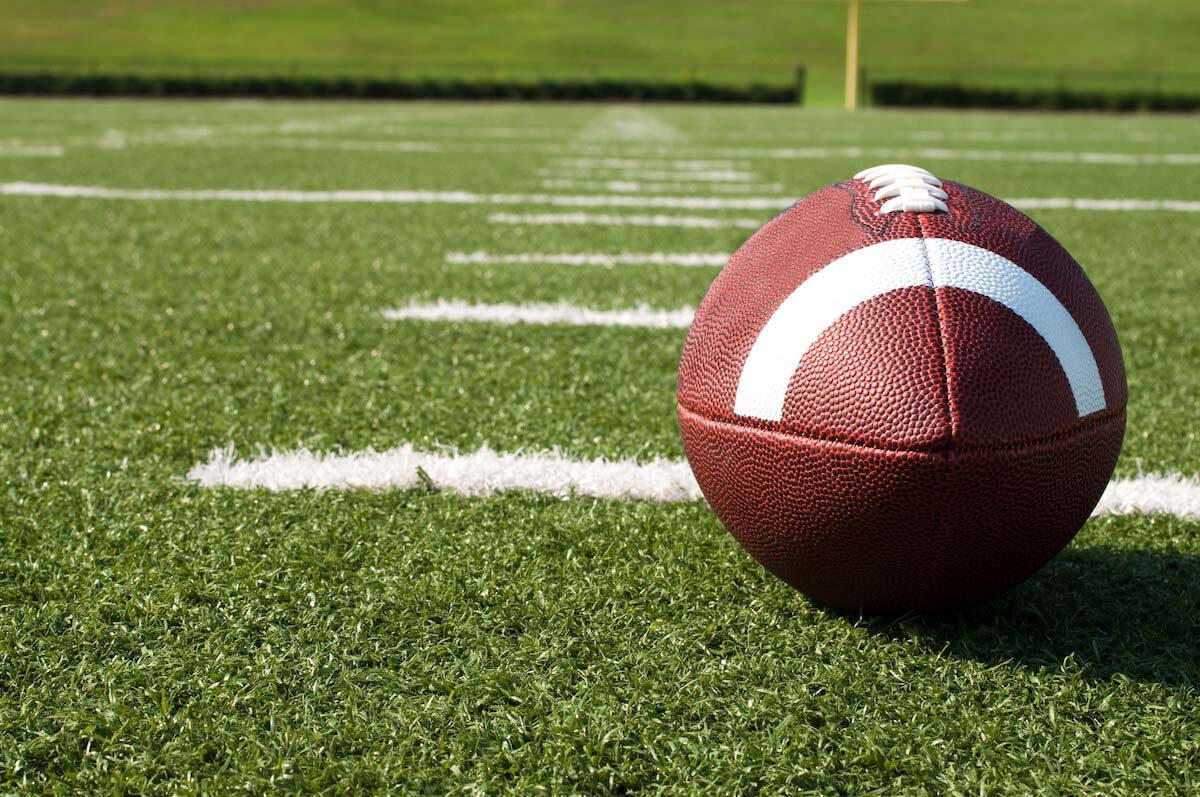 A high-energy sports scene and fitness culture can also be found in Texas. From college and professional sports to fitness training and events, the state offers a variety of options for those looking to stay active and healthy.
Whether it's cheering on the Dallas Cowboys or running a 5K in Austin, there are plenty of ways to stay active and engaged in the Lone Star State. With a wide range of sports and fitness activities.
College & Professional Sports
Both college and professional sports teams in Texas are highly valued and have dedicated fan bases. The state is home to renowned college sports teams, such as the Texas Longhorns of UT Austin, the Baylor Bears of Baylor University, and the Aggies of Texas A&M.
Texas also hosts various professional sports teams, including the Dallas Cowboys, Texas Rangers, Dallas Mavericks, Houston Rockets, and San Antonio Spurs. These teams provide endless entertainment for sports enthusiasts and contribute to the state's vibrant culture. Football is far and away the most popular sport in Texas, but with the popularity of sports in general, there's always going to be someone to help you cheer on your favorite sports team.
Fitness Training & Events
Fitness training and events, such as marathons and CrossFit competitions, are popular in Texas. The state offers a range of fitness events and training opportunities, including community workouts, running and cycling events, high-intensity interval training classes, and dozens of marathons each year.
Whether you're a seasoned athlete or just looking to stay active, Texas provides ample opportunities for individuals to engage in their preferred fitness activities.
Will You Be Moving to Texas?
Texas has become a highly sought-after destination for those seeking a fresh start, thanks to its thriving economy, affordable cost of living, education opportunities, diverse culture, and pleasant climate. From family-friendly cities to a vibrant sports scene, the Lone Star State has something for everyone. So whether you're considering moving to Texas for a new job opportunity, a change of scenery, or simply to enjoy the unique culture, it's clear that Texas is a place where you can truly thrive.
Frequently Asked Questions
Why is everyone moving from California to Texas?
Often, people are moving to Texas from California for financial reasons. The high cost of living in California, particularly housing costs, makes it difficult for many people in California to make ends meet. Texas, in comparison, offers far more affordable housing and an overall lower cost of living.
Is it still worth moving to Texas?
Taking into account the low cost of living, great job market, and plentiful recreational opportunities, it is definitely worth considering moving to Texas. Other incentives that entice new residents include an appealing real estate market, a warm climate, top universities, and a lack of income tax.
What are the top reasons to live in Texas?
Texas is an attractive destination for people who are looking to increase their quality of life while enjoying a lower cost of living. Its laid-back lifestyle, diverse culture, and mild climate make it the perfect place for all types of lifestyles. Not only does Texas offer great employment and leisure opportunities, it also has a rich history that draws people in from all over the world.
The state is home to a variety of attractions, from the River Walk in San Antonio to the Museum District in Houston to the Bishop Arts District in Dallas. There are also plenty of outdoor activities to enjoy, such as hiking, camping, and more.
Is Texas the most moved to state?
Yes, moving to Texas appears to be the most popular relocation in the United States. The U.S. Census reports that almost 500,000 people have moved to Texas since July 2021, making it the most populous state after California, with over 30 million people now living in the Lone Star State.
This influx of people has had a significant impact on the state's economy, with businesses and industries expanding to meet the needs of the growing population.
Why is everyone moving to Texas in 2023?
With a growing economy, low cost of living, sunny climate, and plenty of job opportunities, Texas offers a great opportunity for people looking to invest in their future. While it's not "everyone" by any means, more and more people are choosing to call Texas home.
Ready to live your best life in Texas? Call The RealFX Group at (512) 956-7390 to contact an experienced local real estate agent who can help you discover the Texas home of your dreams.