Windsong Ranch Schools: Prosper ISD Schools Near Windsong Ranch
Posted by Texas Real Estate Source on Tuesday, October 4, 2022 at 12:41 PM
By Texas Real Estate Source / October 4, 2022
Comment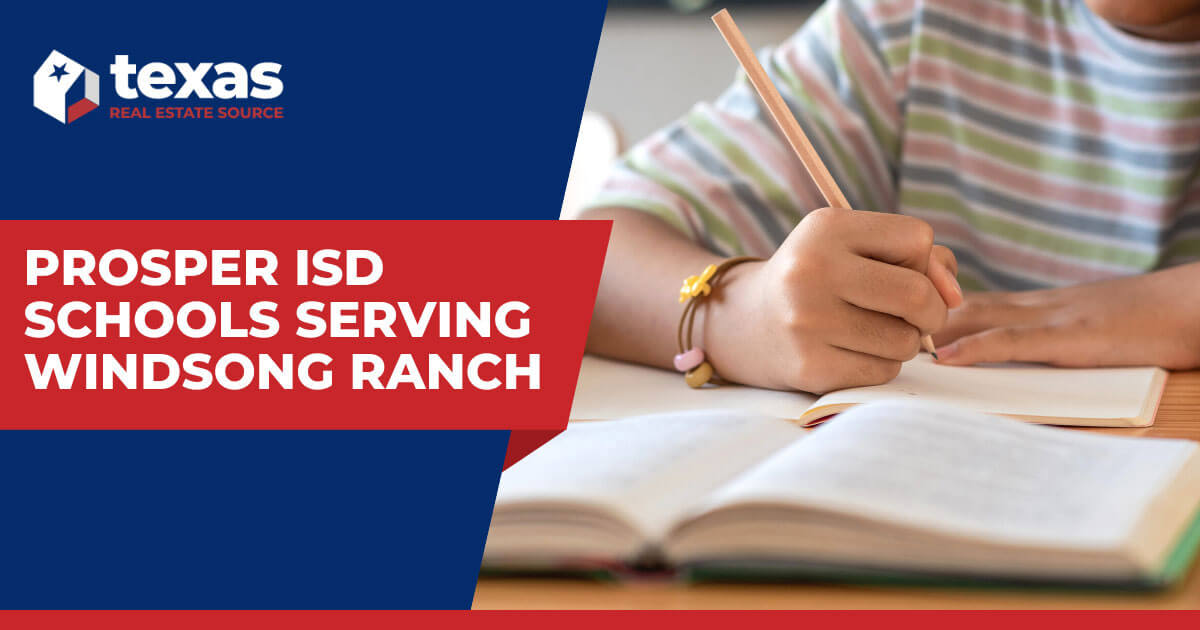 Those living in the Windsong Ranch master-planned community have access to public schools in Prosper ISD, one of the fastest-growing school districts in the state, as well as private school options.
Prosper students are encouraged to participate in University Interscholastic League (UIL) events; the UIL creates rules for and oversees most school athletic and academic competitions in Texas. Starting in second grade, students can compete in various academic competitions.
Prosper supports students and their families at all stages of learning and development, from daycare and preschool to high school and trades training. When you purchase one of Windsong Ranch's homes for sale, do so confidently: educational opportunities abound in the community.
Let's look at the educational opportunities available to Windsong Ranch students; in the process, you'll see why people love living in master-planned communities and learn a bit more about what living in Windsong Ranch is all about!
Primrose Daycare & School
Conveniently located within the community at 1050 Gee Road, the Primrose School of Windsong Ranch uses an evidence-based approach to supporting students' creativity and development. Infants to kindergarten-aged children receive nurturing guidance from teachers specializing in the Primrose Balanced Learning approach.
Primrose has programs for infants through school-aged children. Early Preschool, Pre-K, and kindergarten curriculums support emotional, social, and cognitive development. Primrose School also has a part-time program for 3- to 4-year-olds to get a school experience without having to attend all day. They also offer an after-school program for kids aged 5–12.
Elementary Schools Near Windsong Ranch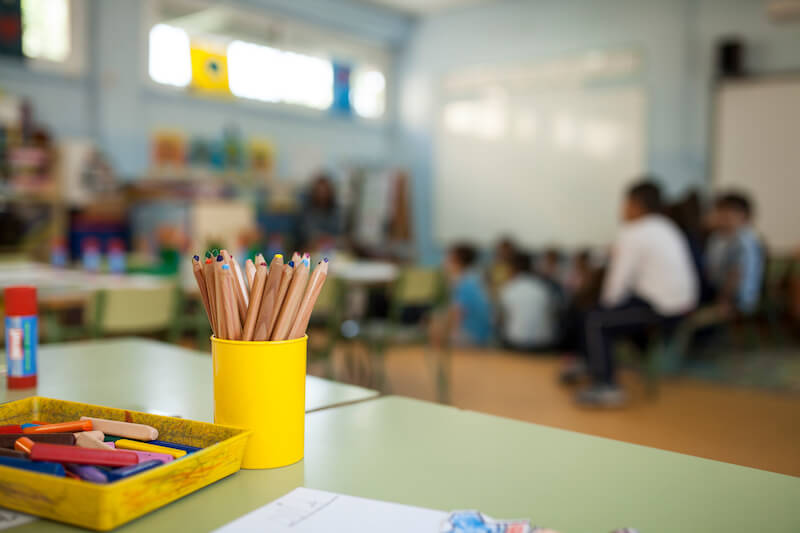 Bryant Elementary
Named for the first woman elected to Prosper ISD's school board, Mrs. Jerry Bryant Elementary School is located at 3830 Freeman Way, north of Fishtrap Road off Teel Parkway.
Bryant Elementary opened in 2021 and is the newest elementary school in Prosper ISD. It's also the second on-site school for Windsong Ranch.
The school serves kindergarten through fifth grade and has a current enrollment of about 1,000 students. Students from Bryant Elementary progress into Rushing Middle School upon completion of fifth grade.
With its convenient location in the new Summit neighborhood, Bryant Elementary connects to the neighborhood hike and bike trails through the playground. Students enjoy easy access to the school via the community trail systems.
The newly constructed playground offers kids an assortment of playground equipment, a shaded pavilion area, and a multi-use court with a basketball hoop.
Windsong Ranch Elementary
Windsong Ranch Elementary was the first elementary school built in the Windsong Ranch community. At 800 Copper Canyon Drive, south of Fishtrap Road, the campus is conveniently situated in the Cadence neighborhood.
Windsong Ranch Elementary School serves nearly 900 students in pre-kindergarten through fifth grade. With one teacher for every 17 students, the school promotes a student-centered learning environment, which has been recognized by the state accountability system.
Students are encouraged to participate in clubs and extracurricular activities like Student Council and Academic UIL events.
In addition, like with all Prosper ISD schools, all students attending Windsong Ranch Elementary participate in Physical Education (PE) and Fine Arts. The school offers Music, Choir, and Art at all grade levels.
Students participate in district-wide traditions like Prosper Homecoming. Kids are invited to sport their spirit-wear during a weeklong homecoming celebration.
Stuber Elementary
Chuck & Cindy Stuber Elementary is just 2.2 miles east of the Windsong Ranch community at 721 Village Park Lane, off Fishtrap Road. The school has been around longer than the previous two, so it's much more established in supporting kindergarten through fifth-grade students.
Along with all of the extracurricular activities offered by Prosper ISD schools, students at Stuber have opportunities to participate in campus events that promote learning outside the classroom. Parents can plan for such events as Reading Under The Stars and Family Heritage Night.
Stuber Elementary School serves over 800 currently enrolled students, and enrollment has reached over 1,000 students in years past. The student-to-teacher ratio is 18:1, and teachers have, on average, more than a decade of teaching experience.
Rushing Middle School
William Rushing Middle School is the next step in the academic journey for elementary school students in the Windsong Ranch community. Located at 3080 Fishtrap Road, the middle school is only a mile east of Teel Parkway.
Rushing Middle School opened in August 2020 with state-of-the-art facilities and educational tools to prepare sixth- through eighth-grade students for high school. There are over 1,500 students enrolled at Rushing, with a 15:1 student-teacher ratio.
Keeping in Prosper ISD tradition, middle school students can access many extracurricular activities and clubs. Students can also join one of the 40 athletic teams on campus. A vast majority of Rushing Middle School students participate in fine arts electives.
Some UIL events available to middle school students include One-Act Play, Calculator Applications, Editorial Writing, Impromptu Speaking, and several others.
Prosper High School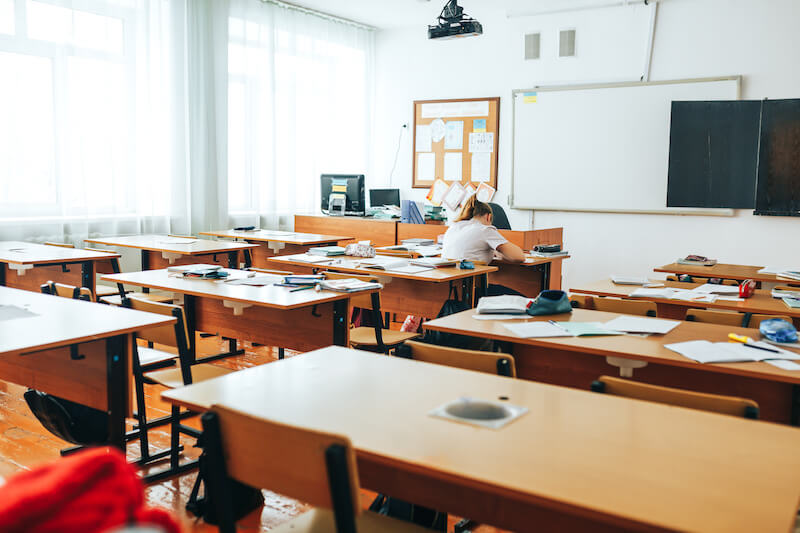 Home of the Eagles, Prosper High School is located on Eagle Drive, less than 8 miles from the Windsong Ranch community. The 6A high school has over 3,800 students in grades 9–12.
Prosper High School prepares students for college by offering Advanced Placement Courses, CTE Courses, and Industry-based Certificate programs.
Student athletes can play on 38 varsity and 54 sub-varsity teams, including football, basketball, golf, soccer, tennis, and many others. The school has impressive sports facilities, including an indoor practice football field and large training areas.
Prosper High School boasts an extensive Fine Arts program and a wide range of extracurricular activities. Students can work to develop life and career skills in a state-of-the-art medical technology lab, broadcast studio, or campus greenhouse.
Private Schools Near Windsong Ranch
Ace Montessori
Ace Montessori is located off Gee Road at 4770 W. University Drive. The school is only a half mile west of Windsong Parkway near Kroger Marketplace.
The school provides a balanced curriculum that facilitates learning by inspiring children's natural curiosities through play and enrichment activities. At Ace Montessori, caregivers and teachers partner with parents to nurture the development of foundational skills in students.
Certified teachers specializing in Montessori methodology foster a holistic learning environment for infants, toddlers, and children through age six at Ace Montessori. They focus on teaching language skills, including sign language, cognitive development, and mobility towards independence.
Further, Montessori programs promote age-appropriate education tailored to each child's needs and stage of development. Ace Montessori provides the Windsong Ranch community with a convenient alternative to traditional daycare and preschool.
St. Martin De Porres Catholic School
Another alternative to traditional public schools is St. Martin De Porres Catholic School. This private school is conveniently located at 4000 W. University Drive, just a quarter of a mile east of Windsong Ranch Parkway.
St. Martin De Porres Catholic School promotes an academic program following curriculum guidelines from the Catholic Schools in the Diocese of Fort Worth. In addition, the school is accredited by the Texas Catholic Conference Education Department.
Serving pre-kindergarten through eighth-grade students, this Catholic school integrates technology throughout a curriculum that covers academic rigor and well-rounded instruction. Students get to take field trips and work on service projects. Adding to their classroom experience, students can participate in physical education, athletics, and fine arts.
So Much to Learn in Windsong Ranch Schools
There is much more to talk about when it comes to Prosper ISD, and its variety of educational opportunities should be at the forefront. There is no way to fit all the programs, technology, and options available to Windsong Ranch students attending Prosper schools. Extracurricular activities and events encourage students and families to connect to the community through Prosper's longstanding small-town traditions.
With private school options, parents have the choice of what methods and materials are used to teach their children the skills needed to advance to the next stage in their education.
Variety in educational opportunities is just one of the things that make Windsong Ranch one of the best master-planned communities near DFW.
Ready to find your new home in Windsong Ranch? Call The RealFX Group at (512) 956-7390 to contact an experienced local real estate agent who can help you discover your ideal Windsong Ranch home.